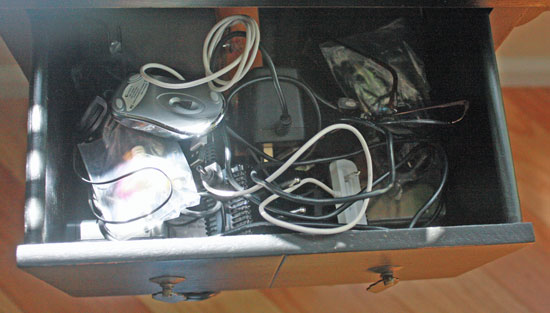 If you're anything like me, then you've got several drawers that look much like the one in this picture. Every electronic comes with at least one cord (though usually there are more), and it's not always in use. That brings me to my biggest issue with electrical cords and chargers: storage. What on earth do I do with all these wires? More times than not the ugly chargers end up in a tangled mess in a few drawers throughout the house or, even worse, hanging out on my counter tops. A super organized pal recently told me her no-hassle solution to my problem, and I decided to give it a try. Want to see what my cords look like now? Then
.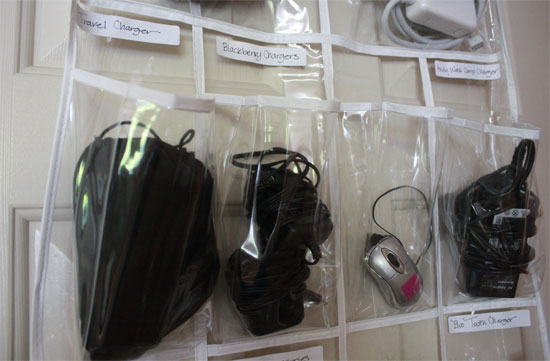 Ta da! I'm smitten. If you look closely you'll see that all you need to have perfectly organized cords is an inexpensive, clear,
over-the-door shoe organizer
($15) and a few sticky labels. Simply insert the cords in the slots, add the labels, and you're done. Honestly, the hardest part was figuring out which cord went with what gadget (I'll admit I still have a few unnamed compartments). Never again will I be muttering profanities as I frantically search for my video camera charger. What's that you say? You need to charge your BlackBerry? Turns out I've got three chargers for that!