How to Use Bookmarks on the Sugar Network
Like us on Facebook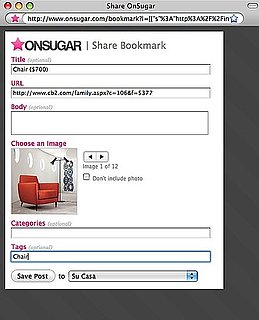 Want a way to collect and share the cool stuff you find on the web? Have we got something for you! It's time to start using one of our favorite PopSugar Community features: bookmarks! Bookmarks are a cool and simple way to save stuff you find on the web.

It's really easy. If you have been with us for a while and already know how to Fab Find, you'll see the above pictured bookmark choices the next time you use your existing Fab Find button.

To start bookmarking, you'll just have to add a simple link to your browser's favorites or toolbar. However, unlike a normal link, you will not be able to click on it first (if you do, nothing will happen and it won't work).

Here's the link: Bookmark on PopSugar Community, you'll need to add it one of these ways:

Option 1: Right-click on the link above and select "Bookmark this link."
Option 2: Drag the link onto your toolbar or favorites.

I suggest option 2, putting the link directly on your toolbar for easiest access.

Here are the steps for bookmarking items once you have the link above in your toolbar.
Find the product you want to bookmark.
Click the Bookmark button on your toolbar. A window will pop up with your bookmark.
Change the title, if you want.
Fill out the Categories and Tag fields, if you want.
Select the group you want to post to from the drop-down.
If you want to create a Layout with your bookmarks, add them by clicking on Add Image and Your Bookmarks tab.
Once you have created a Layout, you can easily make a widget to post on any of the Sugar sites, a group, or your own personal site.