How to Your Wedding Color Palette
Website of the Day: Wedding Color Picker
Like us on Facebook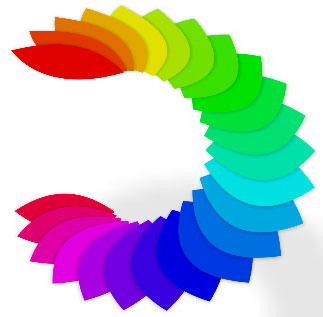 It's that time again — it's Wedding Season here on the Sugar Network! If you're one of the many happy brides-to-be that will be exchanging vows in the near future, congratulations! But now it's time to get down to business. The idea of planning your wedding may get a little overwhelming, but have no fear, all of the Sugar gals are here to help! Some say that the inspiration for your wedding begins with a fabulous color palette, so may I introduce you to Wedding Color Picker. This site is not only easy to use, but it's fun seeing all the different color combos that you can come up with. Find out how it works when you

.

Similar to Colourlovers, you start by picking a color that catches your eye (or one that you and your fiancé can agree on), then Wedding Color Picker drills down into different shades of each hue so you get exactly what you want. Save them and add to your palette, then move onto the next color you'd like to accent with. Before you know it, you'll have your entire wedding color palette picked out, and you can mark that off your to-do list!

Do you have an interesting website you want to share? Create a PopSugar Account or log in to your account. Then join the Website of the Day group where you can post your favorite website! And you never know, it could be featured on GeekSugar! Here's a detailed guide to posting questions or posts to groups if you are new to the PopSugar Community. Don't forget to check back for the rest of the Sugar Network wedding coverage all season long!