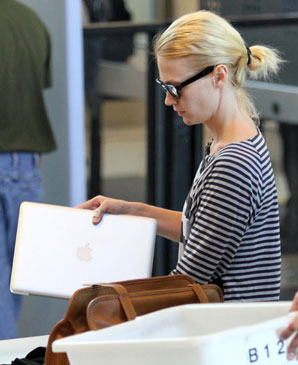 I'm so used to seeing the cast of
Mad Men
interact with such
awesome vintage tech
that I almost didn't recognize
January Jones
in her natural state (you know,
not
as Betty Draper), and toting a laptop as she went through LAX security on Sunday. The
amazing season finale of Mad Men
was packed with lots of retro typewriters, phones, and office tech, but January takes it to the 21st-century off set with her shiny new MacBook Pro — a powerful alternative to the MacBook Air
I'd wire her with
.
Unfortunately, we have to wait until next year to see what's next on the Mad Men tech horizon, but in real life, a girl's gotta stay connected — even if her day job is to play a woman who doesn't know what a cell phone is . . . yet!