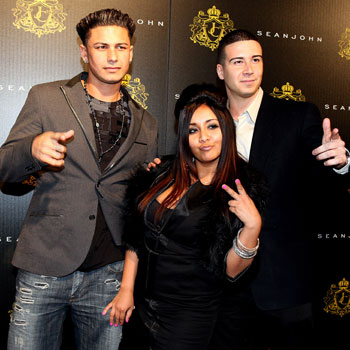 Keeping up with the antics and hijinks of MTV's
Jersey Shore
is like watching a train wreck — you really
just can't help but watch
. Seriously, have you
heard
some of the things
that come out of their mouths
? The popularity of these East Coasters has risen to obscene levels (they're
demanding big-time raises for season two
— yes, season two!), and if you know them at all, you know them by their
Jersey Shore monikers
. Does the name Snooki ring a bell?
You're not alone if you're a fan of this guilty pleasure, and if you want to live vicariously, you can get your own Jersey Shore name with a help of a few online and mobile tools. To find out what they are, just
.


My Jersey Shore Name: This iPhone app ($1) can help you guidos and guidettes find your inner spirit in the form of an outrageous Jersey Shore name.
Jersey Shore Name Generator: This Andorid app will make it easy to name yourself! Just head to the Android Market and search for "Jersey Shore Name Generator."
Jersey Shore Nickname Generator: If you don't have an iPhone or an Android (or don't want to buy the apps), this website makes things super easy for you. My nickname? Pooker.