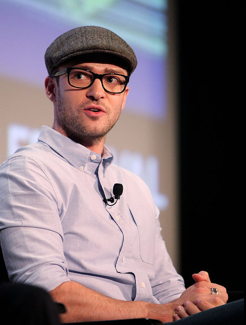 As you may already be aware, I'm
a big fan of vinyl records
. You just can't duplicate their rich tones on an MP3, but some have certainly
gone out of their way to try
. A man after my own heart,
Justin Timberlake
recently told a German newspaper that he too
prefers vinyl over digital recordings
. Although modern man Justin is currently starring in
The Social Network
as digital mastermind (and Napster founder) Sean Parker, he says he frequently tosses on old Beach Boys and Beatles records, which come with warm and rich sounds you can't find on a digital recording.
Are you a vinyl freak like me and Justin or want to get on the vintage geek train for the first time? Go ahead — get yourself a good record player (I have a few suggestions for you here), then head out to your local record shop and browse the racks!