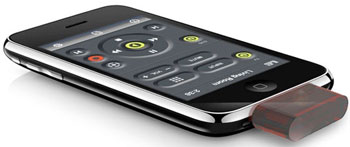 As if your iPhone wasn't useful enough, add one more thing it can do to streamline your life: control your TV. Debuting at this week's
CES convention
in Las Vegas,
L5 Technology
is unveiling its app and attachment that turns your iPhone or iPod Touch
into a universal remote
that controls your TV, DVD player, stereo system, and cable box, among others.
Just download the free app, drag and drop your preferred features into the remote, attach the $50 adapter to your iPhone or iPod Touch, and you're on your way. The good news is that the adapter doesn't require a WiFi connection and can work at up to 30 feet away from your home theater components. The L5 Remote attachment and app will be available for purchase in February.