LG Refrigerator - TV, Remote Control, Kitchen Sink
If you've ever had the burdensome task of buying a major household appliance, you know it's not any fun. There is an alarming variety of models, features and wacky specs you didn't even know existed (seriously, who worries about refrigerator sound decimals on a regular basis?). LG's new Side-by-Side refrigerator offers far too many specs to mention, but caught my eye because it includes a built in 15" LCD TV with FM Radio, remote control, as well as a special Weather & Info Center that provides a five-day forecast for your area (where service is available).
Need to whip up an appetizer in time for your party? This bad boy comes pre-loaded with recipes and can store your favorite digital photos and anniversary reminders. The touch-sensitive digital controls also allow you to manage temperature in the refrigerator and freezer compartments as well as monitor room temperature and reset the water filter status indicator. Oh and if you're dieting or putting your better half on a diet - you can even set the door alarm. Looks like it costs about $3,500, but you have to remember you're getting a gazillion gadgets in one.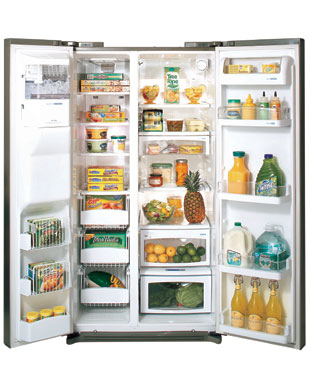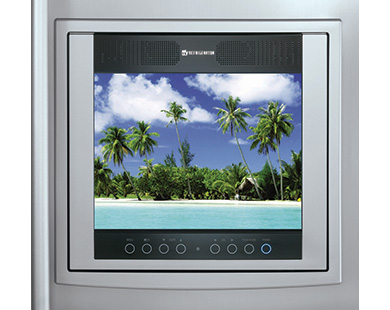 To check out more pictures of the fridge, read more