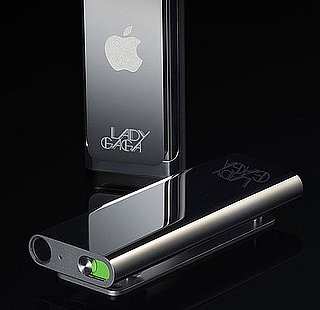 As if this week couldn't get any better! Just days before
the iPad hits shelves
,
Lady Gaga
announced this morning
that she would be partnering up with Apple to produce a limited edition line of iPod Shuffles. Gaga is already
knee-deep in tech ventures
— from
Polaroid cameras
, to her
Heartbeats headphones
— so adding a specialty Shuffle to her resumé should be no problem. The 4GB chrome-plated shuffles (which are
an exclusive
from the Apple Store already) will be branded with Gaga's logo and come stocked with both
The Fame
,
The Fame Monster
, as well as a playlist of her favorite tunes from other artists. Bonus — she'll also be lending a hand to design an accompanying pair of earbuds to match. Looks like
24 will be a good year
for Lady Gaga! To get more details on the Apple-Gaga mashup, just
.
The Lady Gaga Limited Edition Shuffle will retail for $200, but paired with the specially-designed earbuds, you'll need to shell out $250. Not much of a price for the ultimate Lady Gaga fan, but you'll have to wait to get your hands on one — cause you've been punked on April Fools Day!