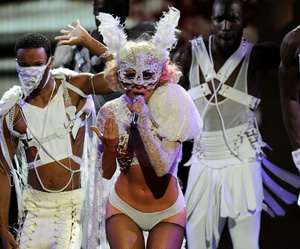 Yes, yes, YES! My favorite eclectic, tech-loving music artist,
Lady Gaga
, is
coming to Rock Band
. A four-song pack will be released next month including hits "Monster," "Just Dance," "Poker Face," and my absolute favorite sing-along jam, "Bad Romance." Users will be able to download all four songs for $7 and individual songs for $2 each. No word on if the pop star will ever offer a dress-up edition of the game — but if she did, I would be all over that disco bra.
In other Gaga news, she's also rumored to be gearing up to perform an ambitious 3D concert and, of course, releasing a 3D DVD of the performance. I'm guessing these rumors are true considering the deluxe edition of Fame Monster contained a pair of 3D glasses and a promise of "things happening soon."