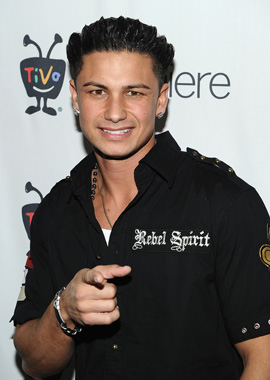 In a recent promotional deal between MTV/VH1 and
Foursquare
, you'll be able to "follow" your favorite reality show celebs using the location-based service, starting with
Jersey Shore
's Pauly D. Traditionally, Foursquare requires both parties to "friend" each other, but with this deal,
celebrities will have the ability to share their location to followers
— presumably fans who are curious to see where their favorite stars are hanging out. Celebrities operating with "celebrity mode" -enabled accounts will be able to toggle between sharing their locations with actual Foursquare friends or just fans.
Celebs can also leave Foursquare tips attached to any location they frequent, so I'm sure it won't be long until these deals are worked right into their contracts (if they aren't already). Given the cast of Jersey Shore's reputation for raucous partying and drunken behavior, I'm wondering how long it'll take for one of them to accidentally divulge a private location. Also, no word yet whether or not Snooki will be participating.