The NCAA tournament tipped off this week in New York! College basketball's round of 64 schools has begun, and eventually the teams will dwindle down to 32, the sweet 16, the elite eight, and the final four. The champion will be decided on April 6, and President Obama has already chosen the Michigan State University Spartans as the tourney's winner against fourth seed Louisville — what have you picked?
It's going to be a whirlwind of a month, so you're going to need all the digital assistance you can get. Here's a definitive guide to the iPhone and Android apps you'll need to download in advance of the March bracket mania.
Watch all the action online.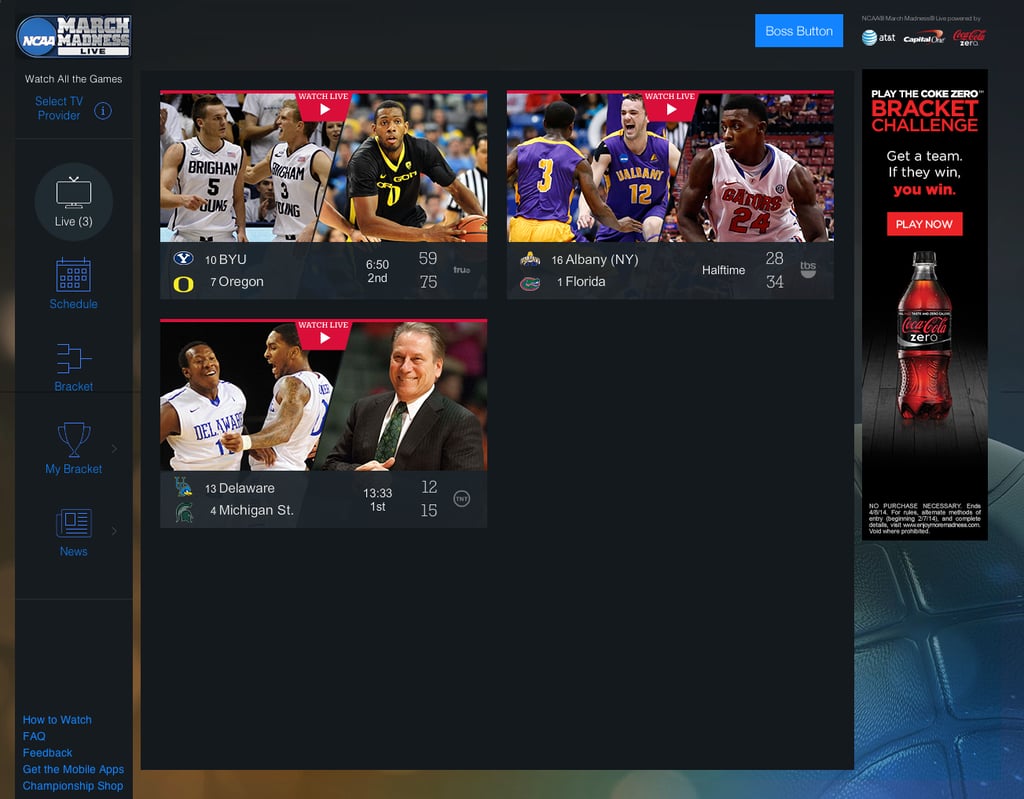 Enter in your TV provider credentials, and watch every game live online at NCAA March Madness Live [1]. For mobile, get the free iOS [2] and Android [3] apps. There's a free limited preview period that doesn't require a login. During the live stream, you can see team stats, player stats, and a list of recent plays as well as join in on the fan chat.
But the best feature is the Boss Button on the top right.
The Boss Button is the best thing ever.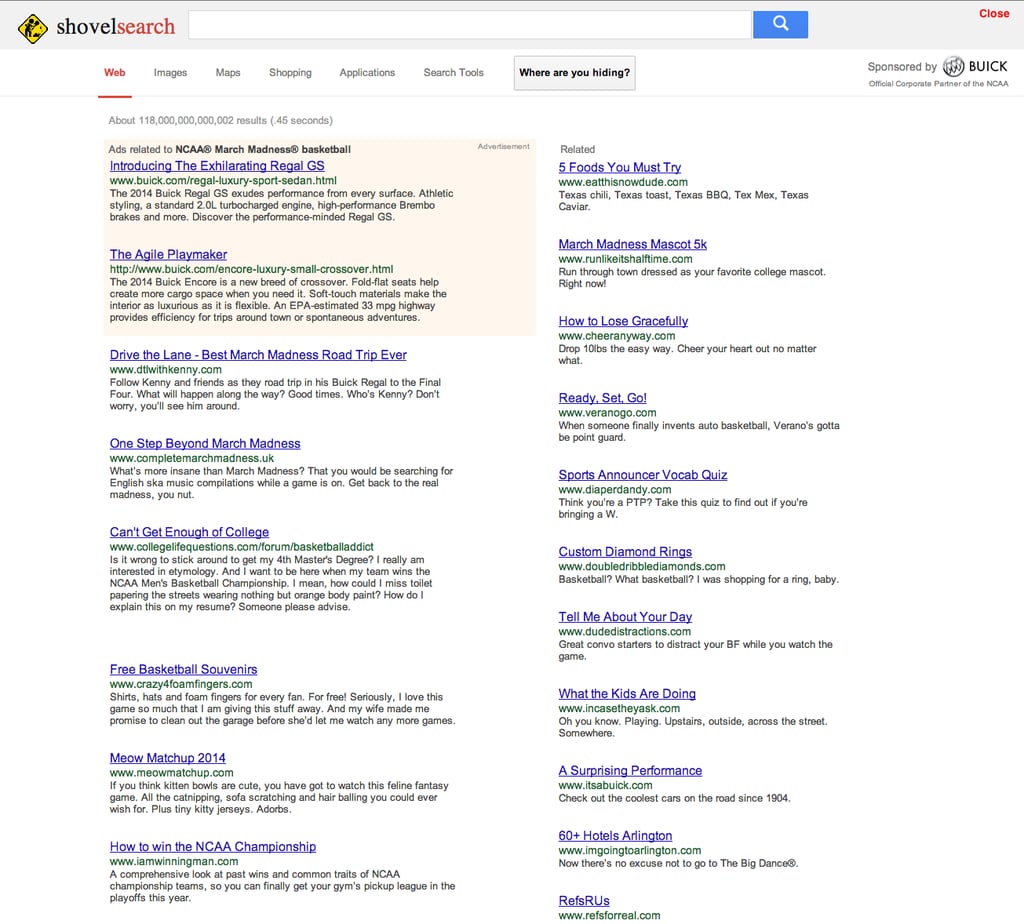 Just in case your (micro)manager is around the corner, the Boss Button will take over your live stream temporarily and replace it with a Google search query or a presentation — amazing.
Get every game score and all the news you need in real time.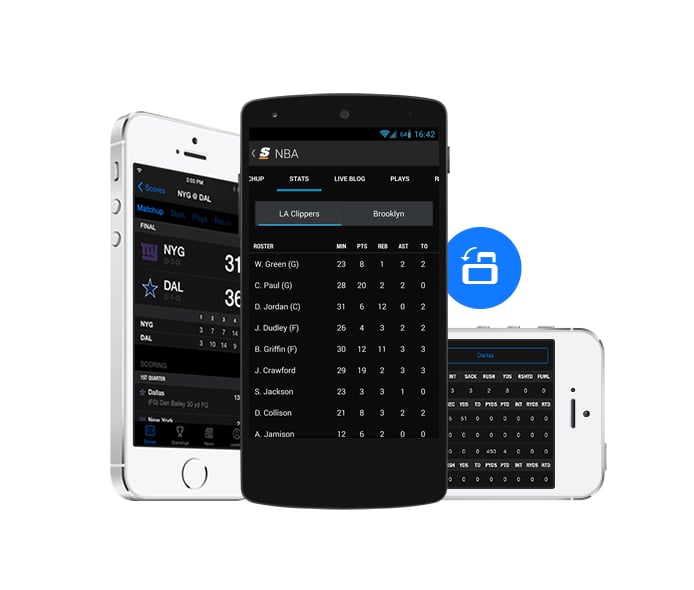 TheScore [4] (free) for iOS and Android offers comprehensive scores, stats, and alerts for more than 20 sports and leagues, 800-plus teams, and 15,000 players. Fans also get curated mobile sports news broken down in easy-to-digest bites. The stories are updated constantly as they develop.
Check how your ESPN bracket is doing.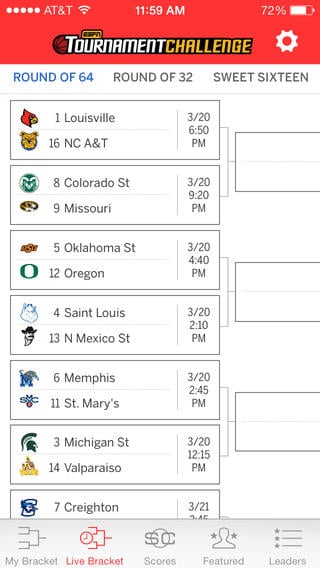 Setting up your bracket with the ESPN Tournament Challenge? Download the official apps (free) for iOS [5] and Android [6] to compete against your friends, politicians, athletes, and ESPN sports personalities. Check the leaderboards and how your teams are doing, on demand.
Check how your Yahoo Sports bracket is doing.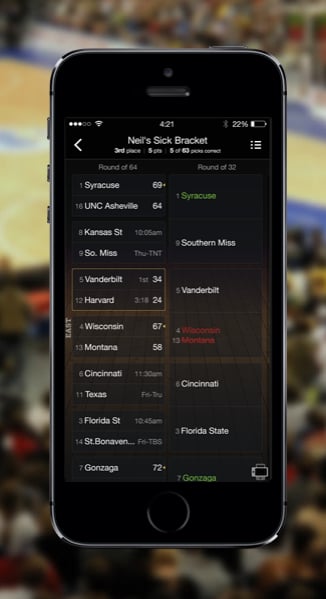 If you're not on ESPN, chances are you're using the Yahoo Sports [7] (free) apps for iOS and Android. The Tourney Pick'em apps will help you track your bracket with scorekeeping and reminders for game start, scoring plays, and more.
Can't stream? Catch it on the radio.
WestwoodOne is commentating every game live! Head to the WestwoodOne [8] channel on the TuneIn app [9] (free) for iOS, Android, Windows Phone, and BlackBerry.
Let's be honest: you'll probably want takeout, too.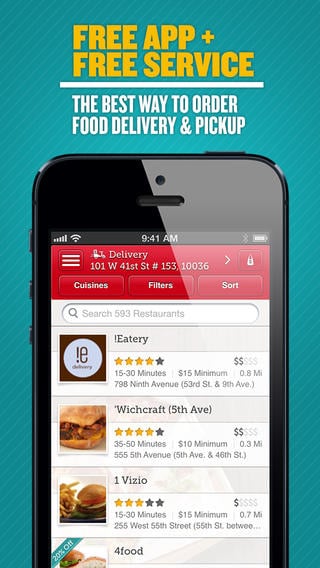 Get the Seamless app [10] (free) for iOS, Android, and BlackBerry for free online ordering that doesn't even require a phone call. You could choose pickup, but since you won't want to miss a moment, you'd better go for delivery. The app saves your credit card information, so you don't need to bother with entering information for every order.