Mobile Protector: Least Chic Thing On The Planet
If you would have asked me yesterday what I thought the most heinous gadget holder I've ever seen was I'd probably tell you the Hip Holster and Shoulder Holsters, which combine the needs of James Bond, Han Solo and Dwight Schrute into two very geeky cases.
Well, a lot has changed since yesterday, most notably, I've been exposed to the Strap Ya Mobile Protector. It appears to be a mouse trap and shopping cart hybrid, with a leather strap and a hint of policeman style. Am I crazy, or is this is the tackiest gadget holder/cell phone clip collaboration you've ever seen?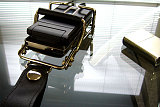 To check out additional images of the Mobile Protector, read more