Wearables were all the rage at last year's CES [1], but this year, the fitness and health tech that impressed us took on a new shape. There were still plenty of wrist-bound gadgets, but fresh hardware in the form of toothbrushes, smart headgear for athletes, and pocketable fingertip sensors also took center stage.
Continue on to see the best wellness technology of 2014, and let us know which future gadget fits into your health and fitness routine best.
Jump to:
[Notch Body Tracker [2]]
[Atlas Wearables [3]]
[Kolibree Smart Toothbrush [4]]
[Lumo Lift [5]]
[Sense Mother [6]]
[Reebok Checklight [7]]
[Tinké Sensor [8]]
[Withings Aura [9]]
[Zepp Sports Sensor [10]]
[Sony SmartWear [11]]
[Netatmo Sun Tracker [12]]
[Wellograph Watch [13]]
Notch Body Tracker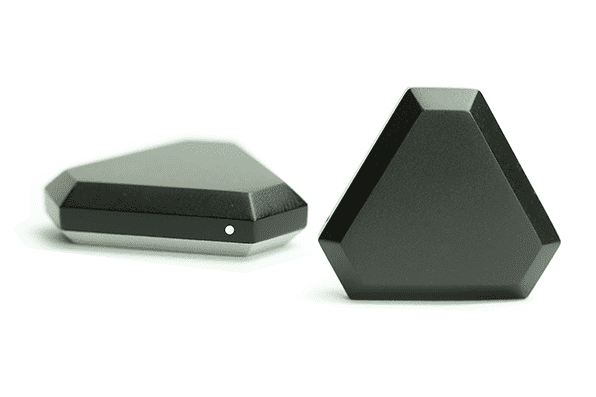 Instead of wearing just one device to track motion, Notch [14] can be used in tandem with multiple trackers to gather even more detailed data. Number of steps in a day are useful, but Notch goes beyond that, tracking speed, acceleration, and force.
The extremely small, Bluetooth-enabled device integrates with "movement-capture apparel" that has Notch mounts in each limb to collect information about the angle of a knee or the movement of a hip, for example.
It's great for martial artists who want more info about the speed of their kicks or tennis players who'd like to measure how fast their serves are.
Source: Notch [15]
Atlas Wearables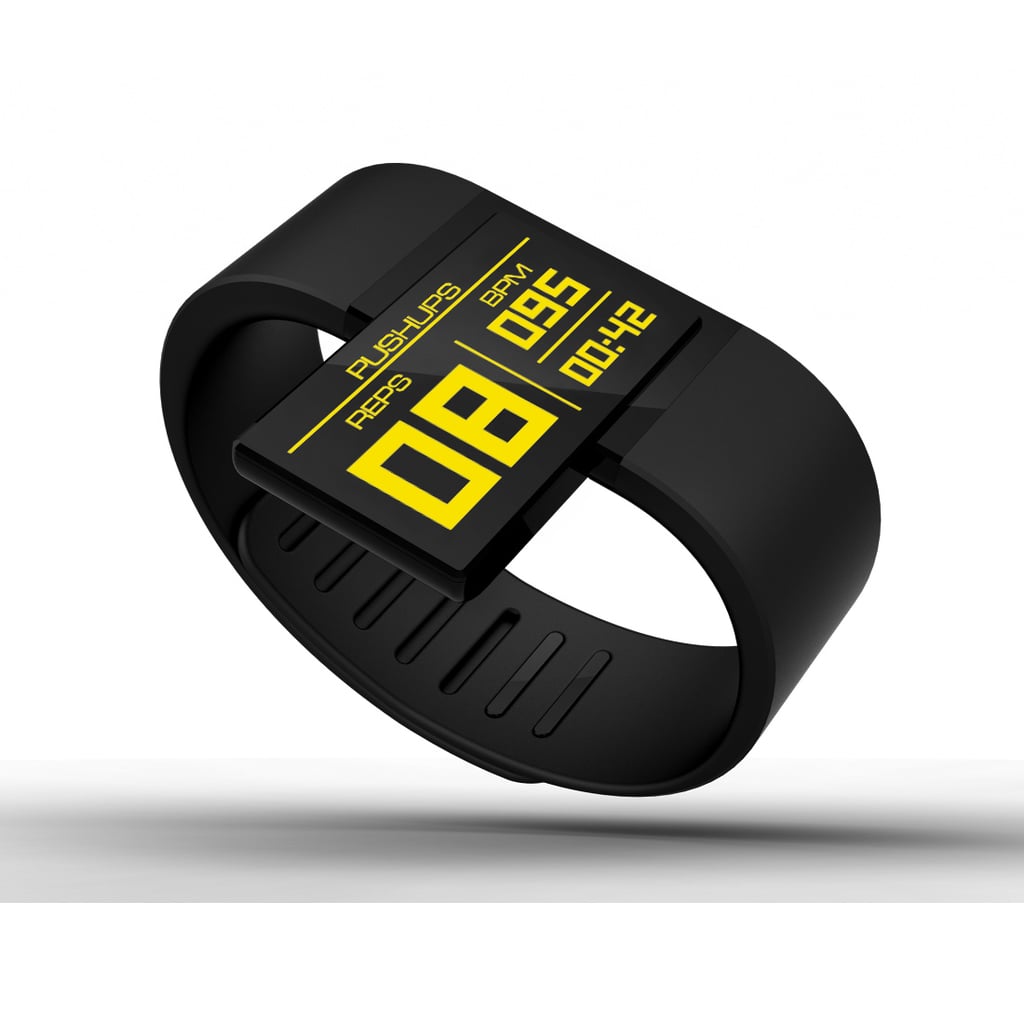 Atlas [16] ($130 to preorder) may look like a typical fitness tracker — but it's not just a glorified pedometer. The waterproof (up to one meter), sweatproof wrist tech collects data about your workout and evaluates your form.
It counts reps and is smart enough to know what kind of activity you're doing. Atlas can tell when you're working on a bicep curl, and it knows when you've switched to alternating bicep curls. It even knows the difference between freestyle, breaststroke, and backstroke.
At launch, Atlas will support an iPhone app and a web dashboard, as well as compatibility with MapMyFItness, Fitocracy, and LoseIt.
Source: Atlas Wearables [17]
Kolibree Smart Toothbrush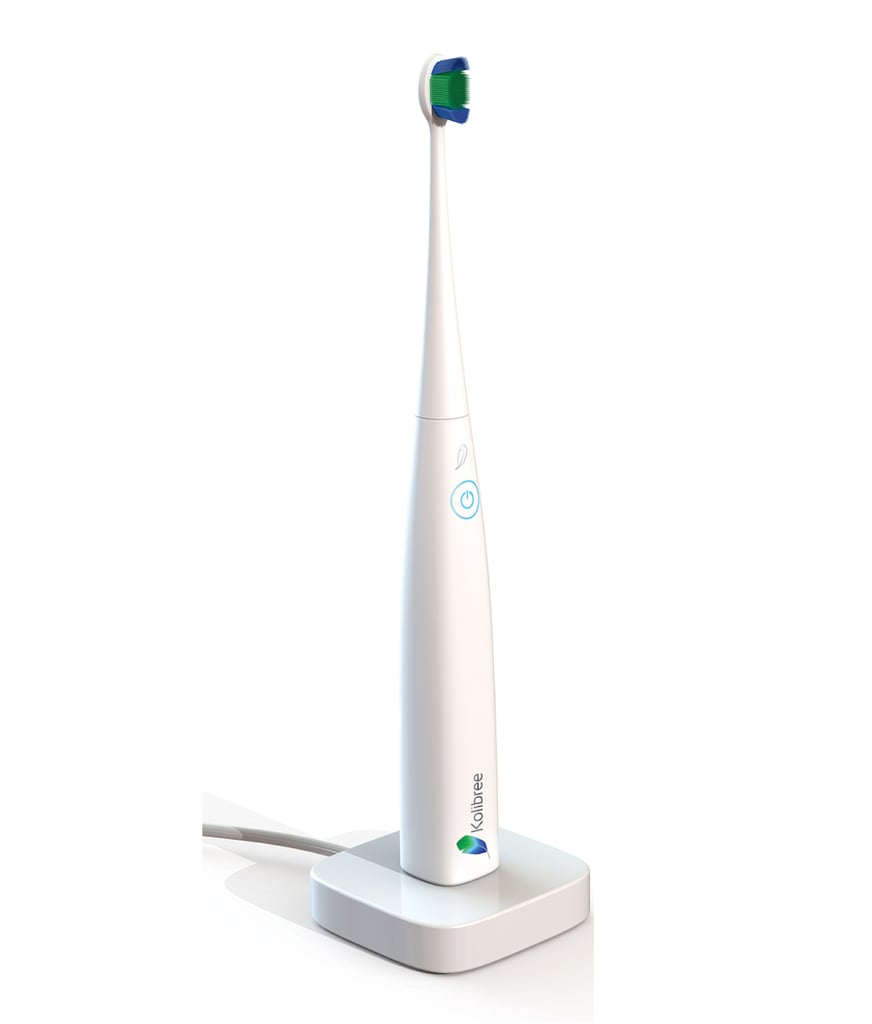 Kolibree claims that this is the world's first connected electric toothbrush [18]. Whether or not the Bluetooth-enabled brush and app companion can replace your dentist remains to be seen.
Kolibree offers dental-health-conscious users feedback on their brushing habits. The app [19], which will launch July 2014, rates the effectiveness of each brush and tells you stats about brushing time and teeth coverage. Kids get awards and badges as they improve.
The electric toothbrush will ship later this year for about $100 to $200.
Source: Kolibree [20]
Lumo Lift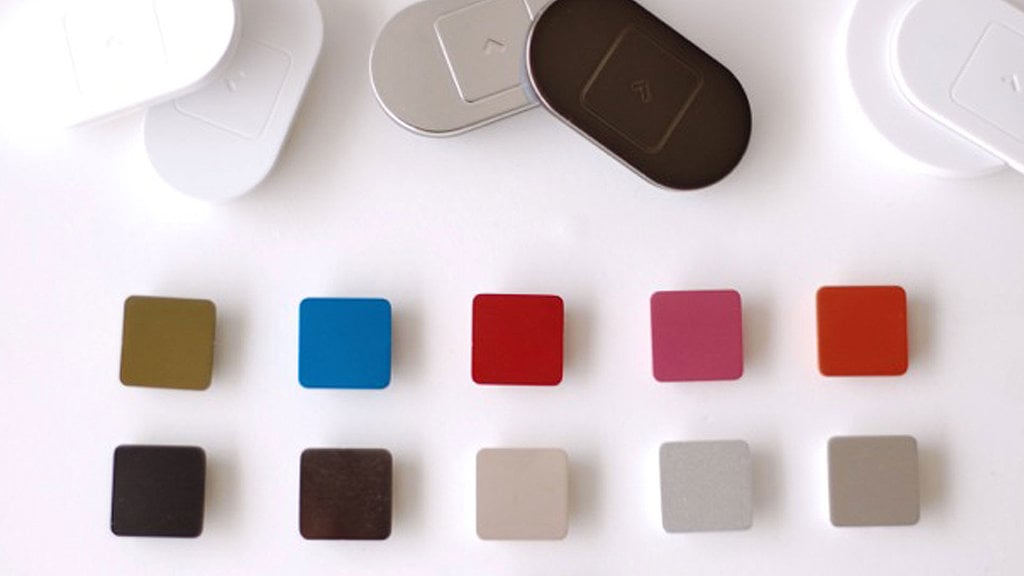 The Lumo Lift [21] ($69 to preorder) reprimands users for bad posture, just like Mom.
It's a magnetic gadget that is meant to be worn discreetly. When the Lift senses slouch, it'll vibrate. Like other fitness trackers, the Lift also tracks physical activity and sends that data to its mobile app companion.
Source: Lumo [22]
Mother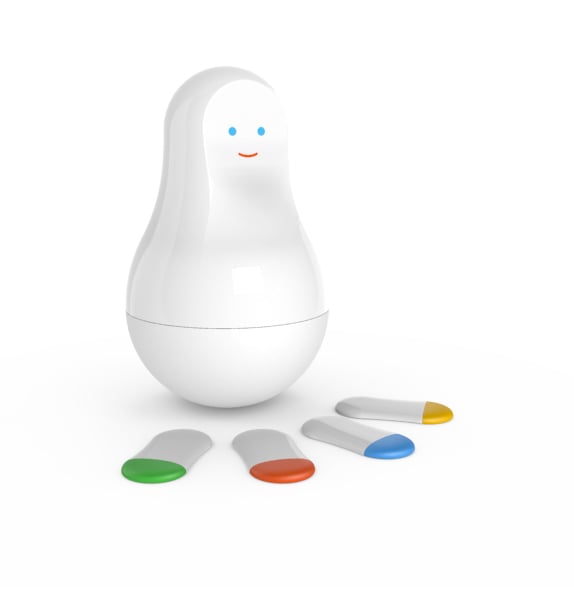 Mother [23] is a programmable device that works as a hub for many small connected sensors. The device's tagline, "Mother knows everything," is, admittedly, a little creepy, but the multipurpose sensors (called Motion Cookies), which detect and understand many different things, can be useful.
Need a reminder to take your pills? Attach a Motion Cookie to your pill box. Wondering if the kids actually brushed their teeth? Affix a Motion Cookie to your daughter or son's toothbrush. Want to save money on heating? Lower the thermostat when no one's home.
Mother plugs into an outlet and an Internet router, and Motion Cookies are tuned to the same range as your home's WiFi network. When they're away from the home, Cookies can save up to 10 days of events.
The kit (one Mother and a pack of four Cookies) will ship in Spring 2014 for $222.
Source: Sen.se [24]
Reebok Checklight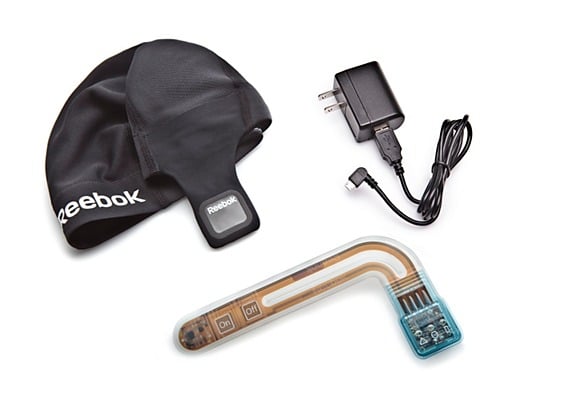 Concussions — and the long-term brain damage that may result — are now a major consideration in many impact sports. Reebok Checklight [25] ($150), which won a best of innovations award at CES 2014, is a flexible, breathable cap that detects how serious those injuries are when they happen.
A small display on the back of the neck blinks yellow when Checklight receives a moderate impact, and blinks red when the impact is severe. Sensors in Checklight also log the number of impacts received as well as the measurement of impact force.
Source: Reebok [26]
Tinké Sensor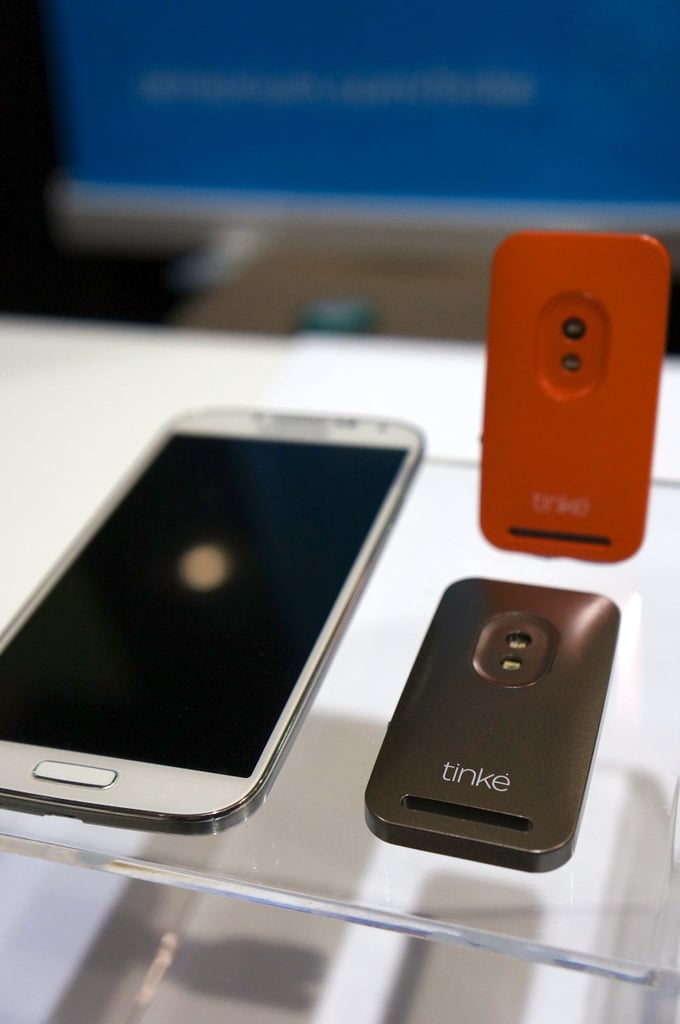 We met the Tinké [27] sensor at last year's CES and were impressed by the device's sleek, attractive hardware and beautifully designed app. The company returned to the show this year with a new sensor for Android [28] ($90 to reserve, ships later this month) and was able to reveal more details about its the type of data Tinké measures.
Photo: Nicole Nguyen
Tinké Sensor App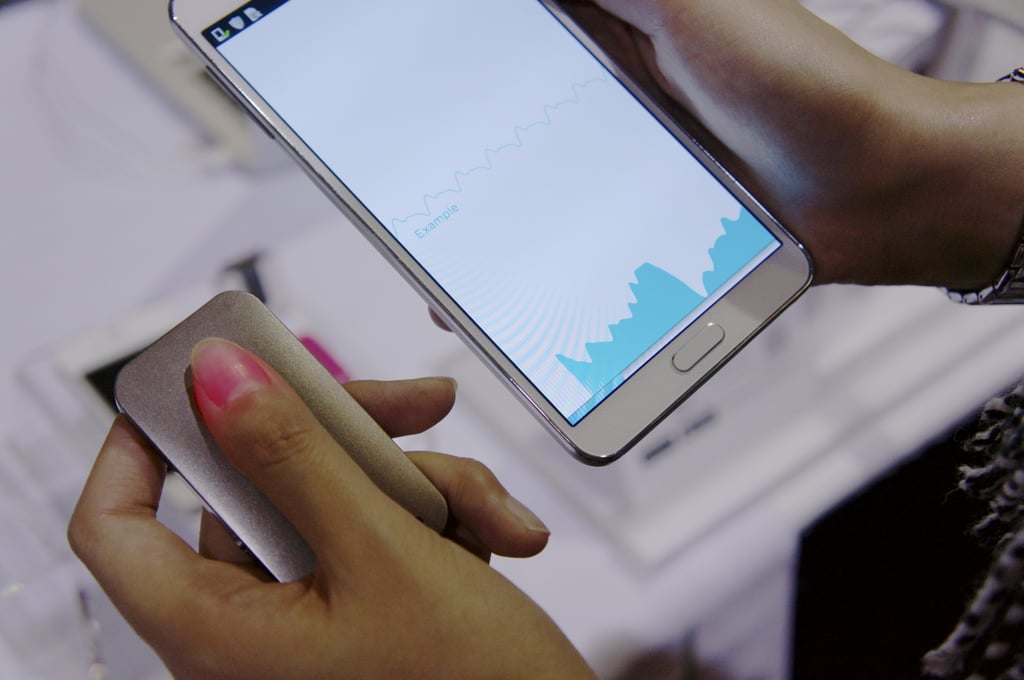 Instead of having to wear a device, users simply pull out Tinké and place their fingertip over the sensor. From this reading, Tinké detects heart rate, respiratory rate (number of breaths per minute), blood oxygen level, and heart rate variability.
The app provides two data points. One is the Vita index, which measures fitness levels by combining heart rate, respiratory rate, and blood oxygen saturation. Your Vita Index number represents your fitness level score out of 99 (how effectively oxygen is being supplied to your muscles.)
The other data point is the zen index, which uses your heart rate variability data to indicate your level of stress and relaxation.
Tinké plugs in right into the phone itself, so it does not have a battery that needs to be recharged.
Photo: Nicole Nguyen
Withings Aura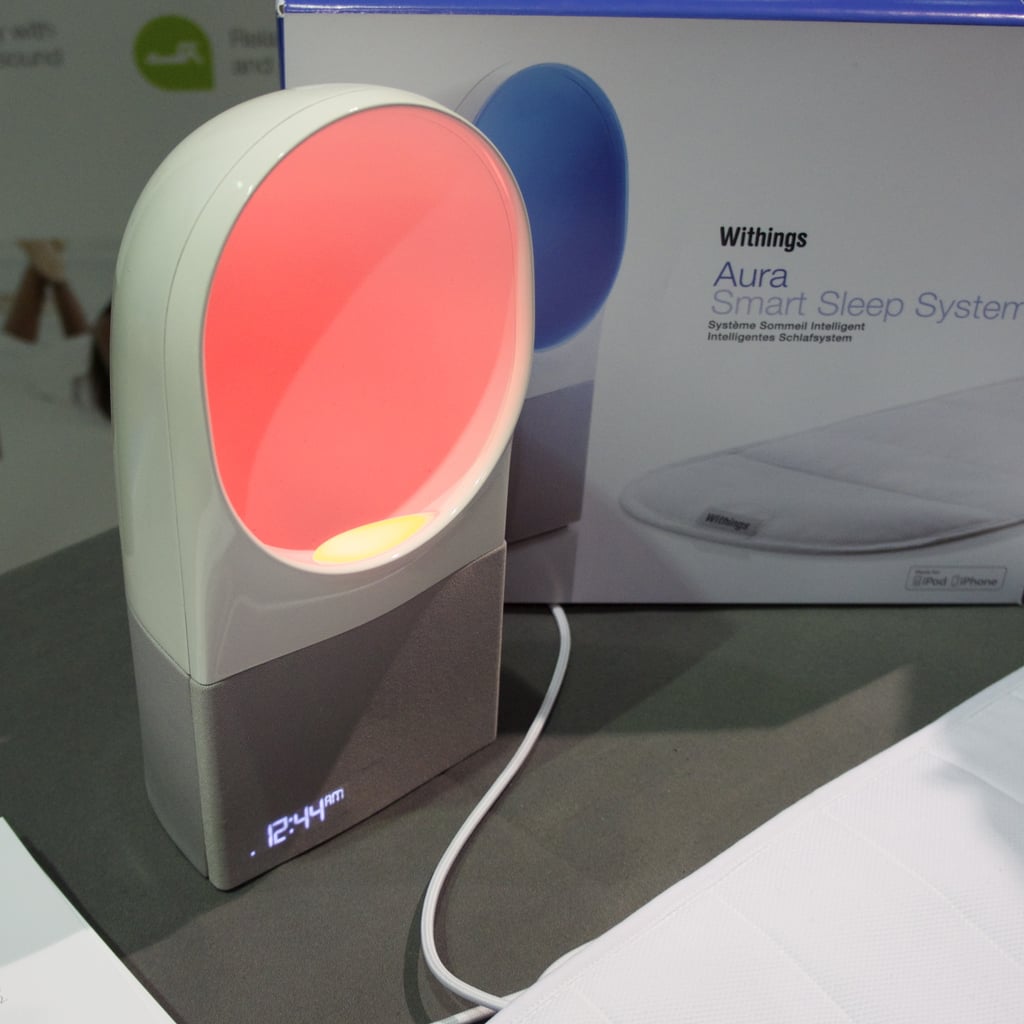 Withings Aura [29] is a sleep tracker that's integrated right into your mattress, so you don't need to wear any fussy wristbands while sleeping.
The bedside device pictured here acts as a clock and also as an environment recorder that can detect noise pollution, room temperature, and light level. There's also ambient light and sound programs to help you fall asleep or wake up.
Photo: Nicole Nguyen
Withings Aura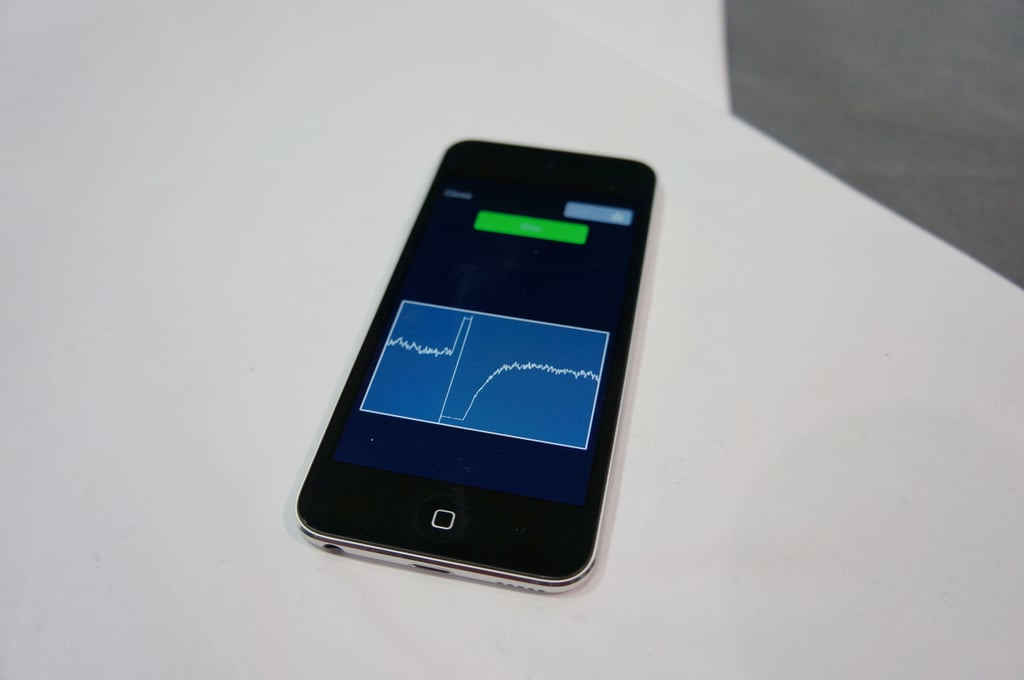 The Aura's mobile app graphs those sleep cycles with visualizations that show you deep sleep and light sleep patterns, body movements, breathing cycles, and heart rate. The bedside device can also be controlled with the application.
Withings is launching the system in Spring 2014, and you can sign up to be notified of availability on their website [30].
Photo: Nicole Nguyen
Zepp Sport Sensors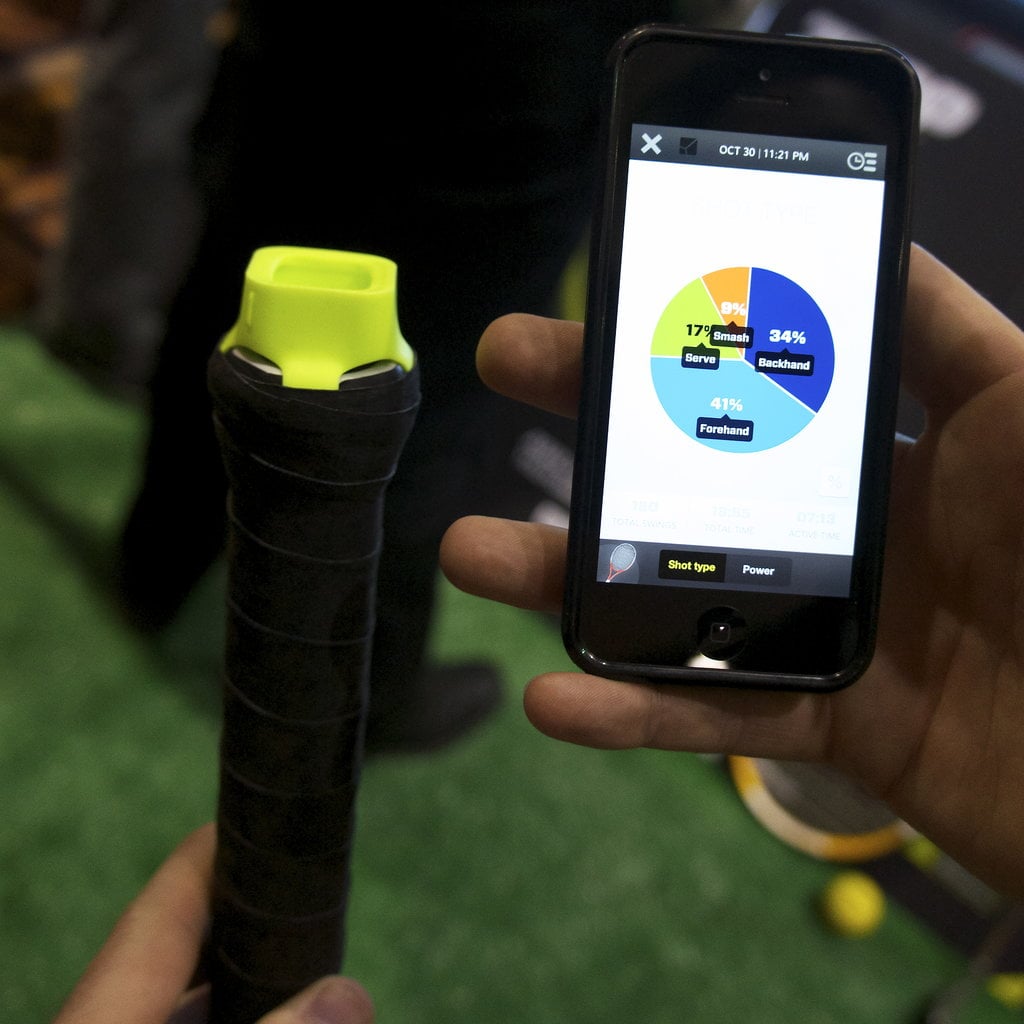 Zepp's sensors for baseball bats, tennis racquets, and golf players [31] ($150 for a kit) give athletes real-time data about their swings. In-depth analysis about angle at impact, speed, and more is beamed from the sensor (affixed to the bottom of the bat or clipped to a golf glove) to Zepp's mobile app.
Photo: Nicole Nguyen
Sony SmartWear
Sony unveiled a new concept called SmartWear, which holds the SmartCore on your wrist. The company didn't have much to show just yet, but the tracker works in tandem with an app to log much more than fitness data.
Sony is interested in "life logging," which refers to time spent in the car or train, or what social media you sent that day — not just how many steps you take. Like the Fitbit, SmartCore can also be clipped onto your clothes.
Source: Facebook user Sony [32]
Netatmo June Sun Tracker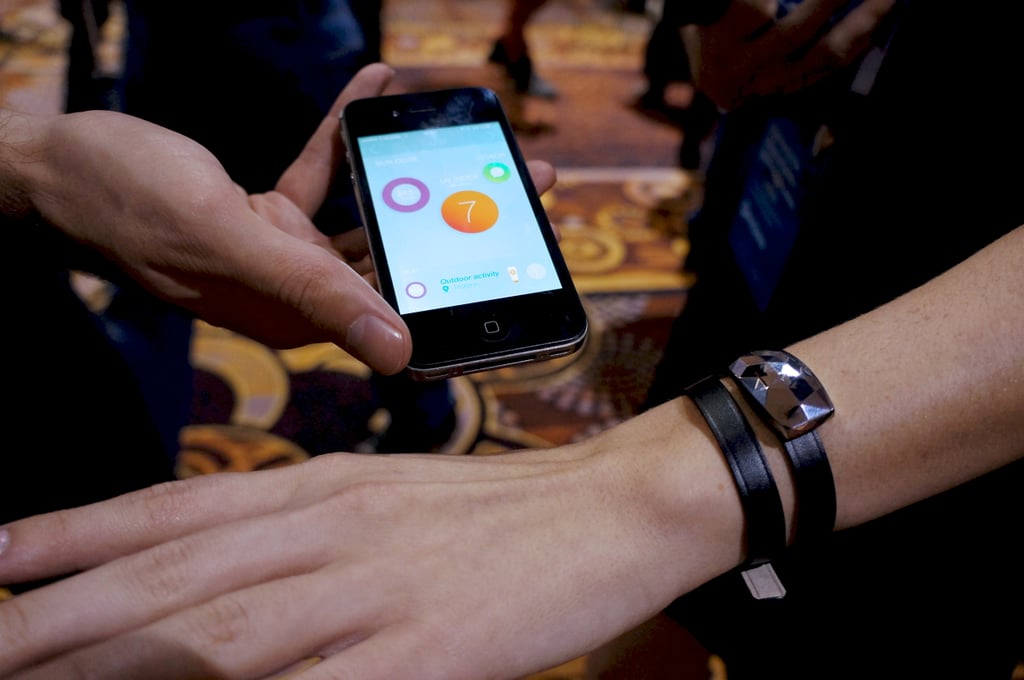 This wrist-bound jewelry is Netatmo's June [33], which has a diamond-like jewel that actually monitors the sun's rays. It's meant to be worn as a bracelet or a brooch and estimates how much time the wearer should be spending in the sun according to data like skin type.
Every day, the app provides a summary of time spent in the sun and when UV rays were at their peak. It'll cost $99 when it hits stores later this year.
Photo: Nicole Nguyen
Wellograph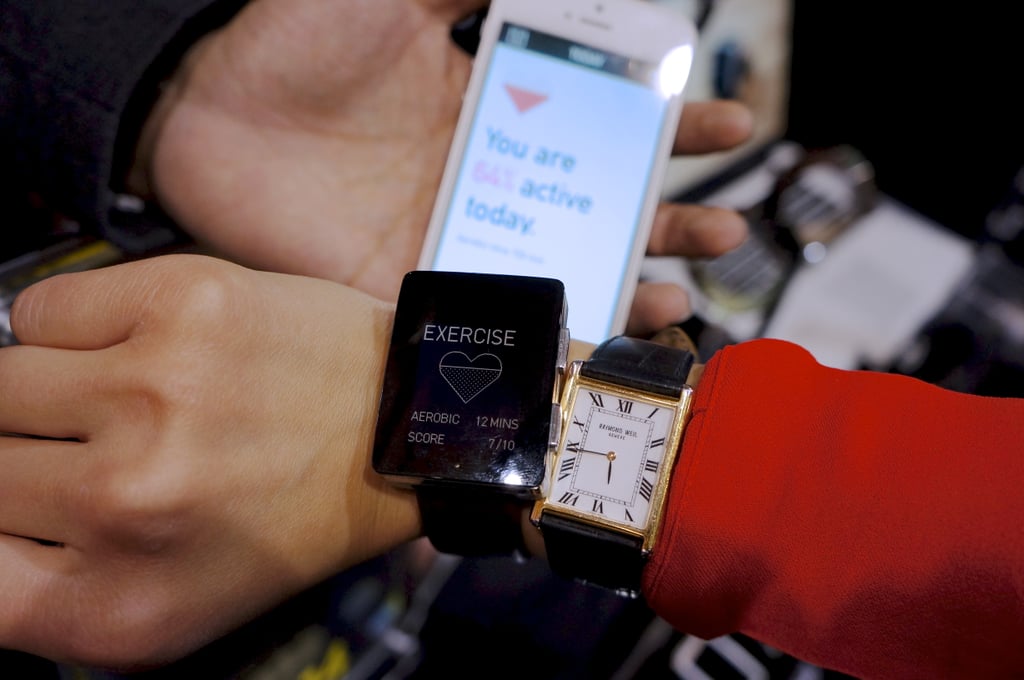 Wellograph [34] is a wellness watch like the Basis [35] that measures heart rate in addition to activity. It'll display data about your exercise (aerobic activity and rating out of 10), steps, and pulse on the watch itself, and provide additional information in the mobile app (seen here in the background).
The Bluetooth-enabled watch arrives Spring 2014, but pricing and availability has not been announced.
Photo: Nicole Nguyen