We talk a lot about Craigslist here, and how easy it is to check sales on your mobile phone, but now, eBay is taking it to the streets with its new iPhone apps, which make buying and selling on the go pretty darn effortless.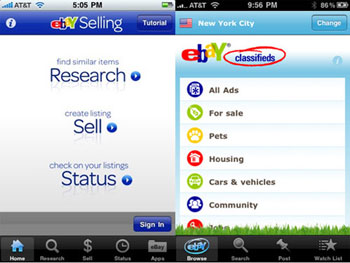 First up is the
eBay Selling App
(free), which allows you to post an item for sale (while using your iPhone's camera to post photos), research similar items and prices, share your listings on Facebook and Twitter, and check the status once it's up. The
eBay Classifieds App
(free) lets you search locally, as well as post your own items for sale without all the hassle of bidding, and upload up to eight photos from your iPhone camera or library. Combine those with the power of
the new PayPal app
, and, well, you may never need your computer again — your whole eBay business can be done from your phone! Just make sure to check out my tips on
taking great resale photos
and some apps that will help you
make the most of the pics
!