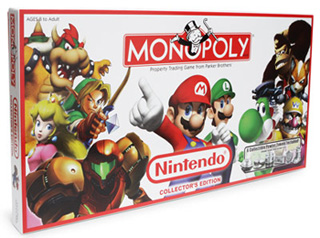 Talk about a new spin on a classic — check out this Nintendo-themed board game!
Nintendo Monopoly
($35) is the NES version of one of my favorite board games. Instead of properties, collect names of your favorite
Nintendo
characters, who are grouped by game, including favorites from
Zelda
,
Super Mario Brothers
,
Donkey Kong
, and more! The game tokens have changed too; you can steer a Koopa shell, Mario's hat, and a classic NES controller past Go, buy Power Ups and Invincibility instead of houses and hotels, and draw cards from "? Block" and "Coin Block" card decks, which replace the traditional "Chance" and "Community Chest" cards.
You can also adapt the game in the spirit of today's high-speed technology; directions include a special 60-minute speed play version of the popular game.