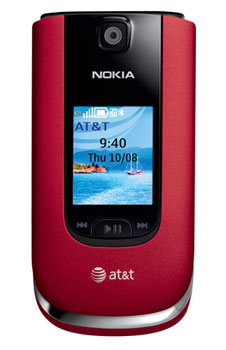 From the six or seven cell phones I've owned in my life, two of them were Nokia's. Tried, tested and true, Nokia handsets will always have a special place in my heart. Now I know I have a tendency to talk about fancy
new Android phones
, and ramble on about
the iPhone
, but I know not everyone has oodles of cash lying around to spend on a smartphone.
If you're looking for a phone that's reliable and practical, yet still offers great features like 3G connectivity, a web browser, email capabilities, and a 2-megapixel camera, then take a look at Nokia's new 6350.
Available in red and gray, the 6350 flip phone is said to be coming to AT&T on Oct. 4., and get this — it will only cost you $30 after a mail-in rebate and with a 2-year contract. Such a deal.