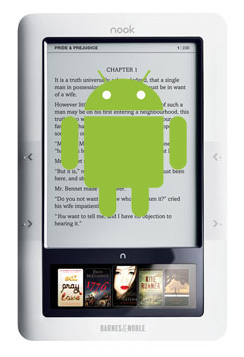 Less than a month after Amazon announced its
Kindle App for Android
, Barnes & Noble has followed up with an Android app of its own. The
Nook app
for Android phones will allow users to read any book available for the Nook right on their phone. While you don't have to be a Nook user to use the app, if you do have a Nook and have purchased titles for it, you can access them through the app, too. This includes books you've already purchased for the Nook
and
books you purchase in the future.
Find out what other great feature the app comes with after the break.
Another awesome function: lending. The app allows users to share their books with any other Nook app user, who will have access to the book for 14 days. Books can be read in either portrait or landscape views on your phone, and both font and text size can be altered — there are eight font styles and five text sizes. The best part? While you have to pay for titles, the app itself is free!