Osama bin Laden Twitter and Internet Traffic Spikes
How Osama bin Laden News Affected the Internet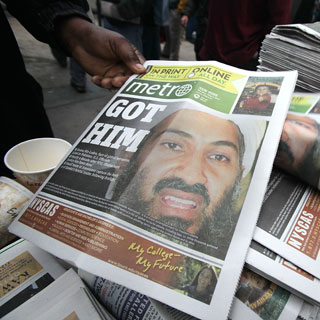 Millions of Americans were captivated last night as President Obama announced the death of Osama bin Laden, but the news did more than just increase TV ratings — it also caused a huge spike in Internet activity while citizens searched for details and updates. Find out how this breaking news affected the Internet below!
Twitter — It was a big moment for Twitter, as the news actually broke on the microblogging site. Though there was a traffic spike of 4,000 tweets per second, there was not a fail whale in sight. Way to go!
Internet — As the news leaked out and President Obama began his speech, the Internet was a pretty packed place with over four million pageviews per minute to top news sites, which amounts to a 28 percent increase here in the US.
Mobile news — Mobile browsers aren't immune from high traffic spikes, as CNN's mobile site crashed shortly after the news hit.
Newseum — Citizens looking to find out how newspapers around the country are covering Osama bin Laden's death would usually check Newseum (which posts digital replicas of hundreds of newspapers around the country), but searchers actually crashed the newspaper site this morning.