We've all seen the shiny candy colored cameras lined up at your local electronic stores' display shelves, ripe for the picking. Those colors! I know what you're thinking: It would match perfectly with my bag/shoes/iPod [1]/insert accessory here. But what are these cameras made up of, other than flashy and oh-so-tempting exteriors [2]? We'll divide and conquer five different models, learning the pros and cons of each so you get the camera you'll love and one that fits your needs too. Plus, explain what all the techie jargon means, so you can actually have a convo with the sales guy, and not just look like a deer in the headlights. Keep in mind, all of these beauties have at least 8-megapixels for super clear prints, as well as 3x optical zoom when you're ready for your close ups!
Canon Powershot SD1100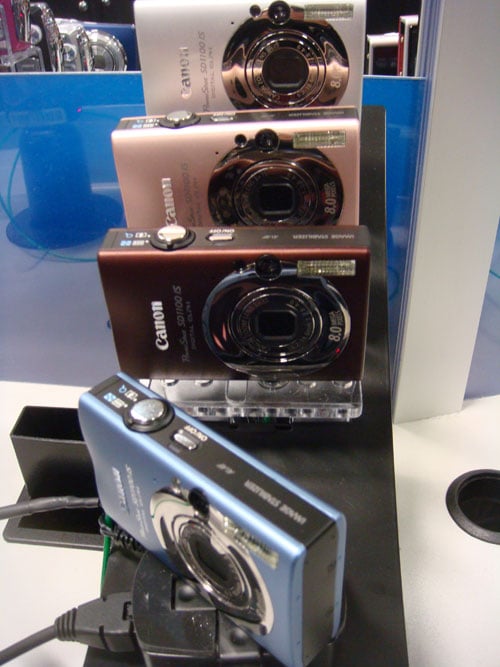 An all around solid camera, the Canon Powershot SD1100 [3] is good for both still and moving pics, in daytime or evening. Due to its helpful image stabilization as well as face and motion detection technology, the SD1100 ensures you get a clear shot when taking group shots of your pals, or riding shotgun or photographing moving landscapes. The wide 2.5-inch LCD screen allows you to check out your pics, and actually see what you're looking at!
Pros: Image stabilization, motion and face detection, moderate ISO for good nighttime shots, over 15 scene modes, edit photos right in the camera, video capabilities.
Cons: No outside manual exposure controls, slow flash reboot time.
Fuji Finepix Z100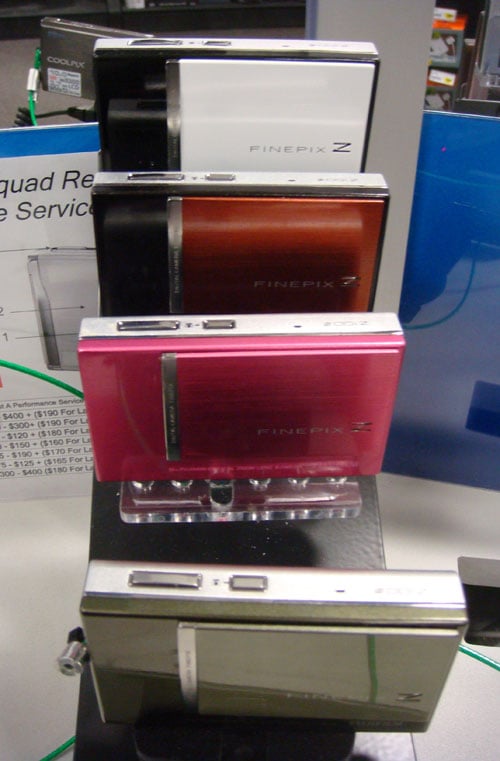 This camera is a blogger's dream! Shoot in blogging mode, and the pics are copied to 640 x 480 or 320 x 240 right in the camera for easy uploading. Face detection focuses up to ten faces, and at .34 lbs, it's light in your bag. The Fuji Finepix Z100's [4] I-Flash technology adjusts the flash according to subtle differences in your scene, to prevent wash out. Plus, dual shot captures two images in succession, one with, and one without the flash so you never miss a shot.
Pros: Easy blog uploading, 5x optical zoom, face detection, red eye removal.
Cons: Low battery life, no optical lens.
Casio EX-Z80
This quiet and compact camera is perfect for the on-the-fly video aficionado. Capturing video has never been easier in YouTube mode. Plus, the Casio EX-Z80 [5] is compatible with iTunes, so you can drag and drop videos right into your video folders.
What's more, auto shutter waits until you've stopped panning, your subjects have stopped moving or cracks a smile before it shoots.
Pros: YouTube mode, iTunes compatibility, 2.6-inch wide LCD screen.
Cons: Tons of options could make for a steep learning curve.
Olympus Stylus 850 SW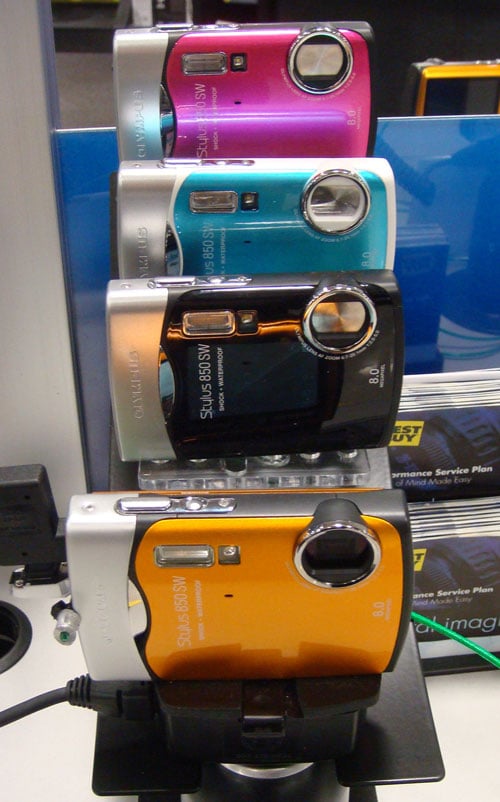 A tough camera that you can take on your beach or mountain excursions and don't have to worry about dropping it in the river. Waterproof and shockproof, the Olympus Stylus 850 SW [6] is one strong camera that can take a beating, with help from its metal exterior. Although indoor photos at high ISO seem to suffer, it still rocks as an outdoor travel camera. Image stabilization and face detection ensure that you get those awesome mountain top smiles in a clear picture.
Pros: Waterproof and shockproof, survives temps as low as 14 degrees ferenheit (-10c). Wide 2.5-inch LCD screen, face detection.
Cons: Indoor photos suffer above 400 ISO, no image stabilization.
Nikon Coolpix S210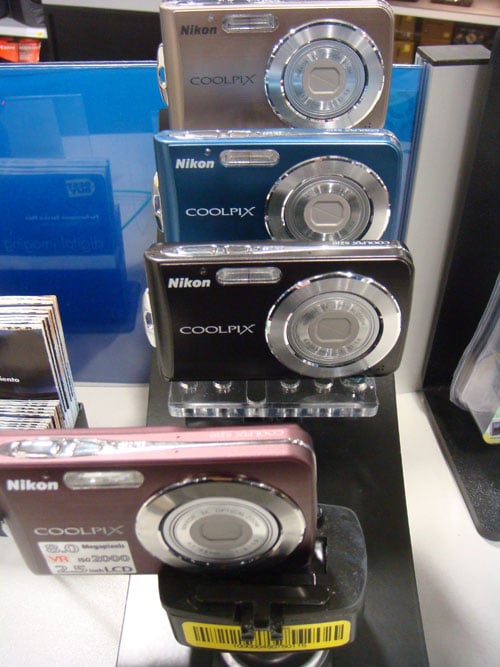 A camera for the live music lover. The high 2000 ISO ensures your concert photos in dark venues are clean and clear. Plus, the vibration reduction technology leaves you confident that pics of your favorite star are free from blur when the base (or your hands) is jumpin'. Plus, at less than an inch thin, the Nikon Coolpix S210 [7] can fit into your tightest jean pocket (although not recommended)!
Pros: Max 2000 ISO, 52 MB on-board memory, 0.7 inches thin
Cons: No optical lens or optical image stabilization.