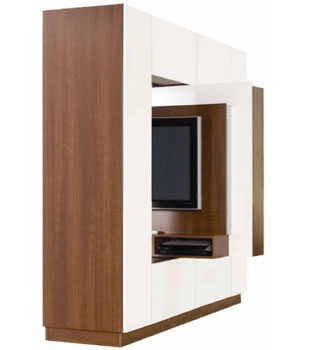 Decoratively speaking,
loft living
[1] can really get your creative juices flowing, or in contrast, make you go crazy trying to figure out what to do with all that space. Thankfully,
there's a solution
[2] — the
TV Room Divider
[3] ($4,500).
Price tag aside, this room divider would be the perfect way to break up a large living area into two rooms, both of which (or either of which) could be used simultaneously to read and relax, or watch the tube. The center console swivels 360 degrees so you can get a good viewing angle from either side. Sure, it's a far cry from your Ikea media center [4], but hey — if you've got the space and the cash, you might as well flaunt it!