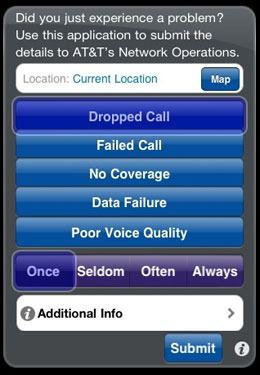 Honestly, I am overjoyed that I found this app and could share it with the rest of you iPhone users out there. Although I love my iPhone, the service of AT&T can sometimes leave a little to be desired. I'm sure this is true for every cell network, but dropped calls and missing bars when you supposedly have "
the best network in the country
" is not a recipe I want to chow down on.
Additionally, I hate calling into customer service (which I've lamented about in previous posts), so this app is literally a sanity saver. Called Mark The Spot, this app allows you to report problems in service straight to AT&T without even calling into the 800 number. Just allow the app to use your location, select your problem (whether it be dropped calls, no service, or even poor voice quality), and send. It's really that easy. Best part? It's free!