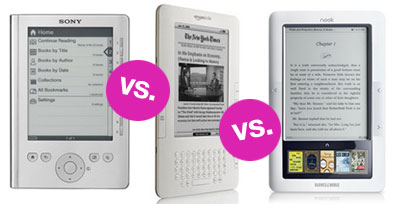 Not only is Barnes and Noble and Amazon
battling it out at the cash register
, but Sony just entered the ereader price war by knocking the cost on their pocket-friendly Reader
down to $149 from $169
. This positions the Reader Pocket Edition next to the affordable
WiFi-only Nook
and just shy of the WiFi + 3G Nook and Kindle 2's sticker prices (which come in at $199 and $189 respectively).
Interested in seeing how the Reader stacks up against the competition now that prices are falling? Check out each ereader's best assets (and what they're missing) in the graph after the break.
As you can see from this graph, what the Sony Reader Pocket Edition lacks in memory space and connectivity, it makes up for in battery life and color options. Additionally, the Sony Reader Pocket Edition is truly portable — it comes in under eight ounces, and has a small five-inch screen.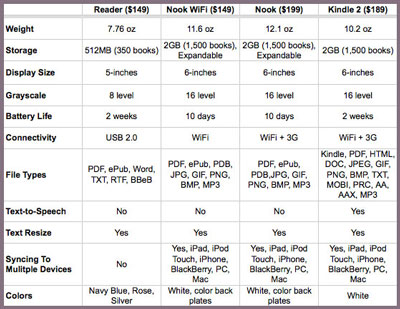 However, both the Nook WiFi, Nook, and Kindle 2 crush the reader when it comes to WiFi access, on-board storage space, and grayscale contrast — 16 levels of grayscale ensures that your print stays crisp and readable, while the 8 level grayscale contrast of the Sony Reader Pocket Edition may make it harder on your eyeballs to read for long periods of time. My choice? I'd spring for the Nook all-around in the sub $150 category and sub $200 category for its expandable memory, color choices, and touch screen, although you'll sacrifice battery life and text-to-speech capabilities that come with the Kindle 2.