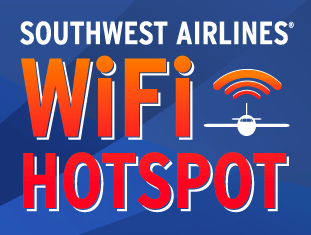 Just in time for the busy holiday travel season, Southwest Airlines has announced
pricing for its in-flight WiFi program
. With 32 planes ready for your browsing pleasure (and 28 more being added by the end of the year), Southwest will offer WiFi for an introductory rate of just $5 for any flight on any device (which means pricing will most likely go up eventually). While other airlines are still
playing catch-up to the in-flight WiFi trend
, this low pricing is a big relief for frequent fliers, and family members that will trek cross-country for holiday festivities.
So how will you know if you've reserved a seat on a WiFi-enabled plane? Find out, and learn about some freebies Southwest is providing after the break.
For now, you'll receive an email notification 24 hours before your flight to let you know if your craft is hooked up. As more planes are added to the fleet, you'll be able to book a WiFi-ready plane in advance. In addition to access to the Internet at 30,000 feet, you can browse the Southwest WiFi Hotspot homepage, which gives you free access to SkyMall, games, a handy flight tracker, along with the Home Shopping Network so you can shop your flight away.