There's no sound in space, but that isn't stopping Lady Gaga [1] from performing in zero gravity. Ms. Gaga will be the first recording artist to sing in space, but she isn't the first to rock out over Earth (need we remind you of Col. Chris Hadfield's excellent rendition of Space Oddity [2] aboard the International Space Station).
The Mother Monster joins the growing list of space-bound celebrities, including Kate Winslet and Tom Hanks [3]. But it's not just exclusive to the stars (or Olympic torches [4]), you too (with some major funding) can see the wonders of the universe up close by booking a seat on a spacecraft heading to the final frontier.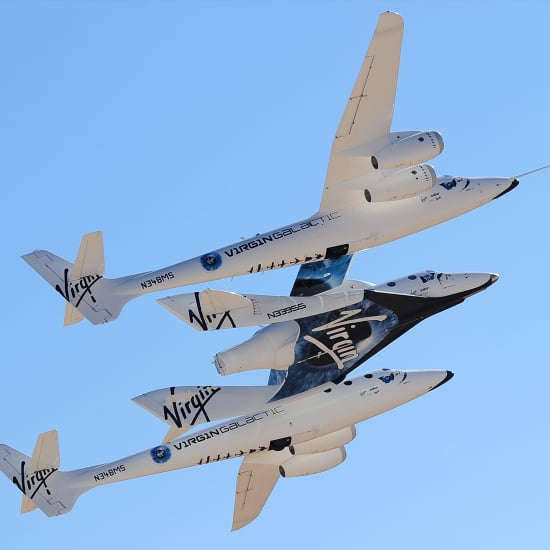 Virgin Galactic [5] — For a mere $250,000 payment, in full and up front, you will be guaranteed a spot aboard one of Virgin Galactic's supersonic space-bound vehicles. A reservation will also offer access to Virgin Galactic events, like trips to Sir Richard Branson's private island in the Caribbean.
Space Expedition Corporation [6] — The Amsterdam-based company offers three types of flights out of the Curaçao and Mojave space ports: Founder, with a summer 2015 launch date ($100,000); Future, with an early 2016 launch date ($100,000); and Pioneer, with late 2014 launch ($95,000), but this flight only reaches 60 km. All flights are in the air for a little more than an hour, and passengers will feel weightlessness for five to six minutes.
World View Experience [7] — For the budget-conscious set, this high-altitude balloon is the perfect choice. A $75,000 ticket (drinks included) will take you up into the upper atmosphere after ascending for an hour and a half. You'll linger up at high altitude for a few hours before gliding back to Earth.
Space Adventures [8] — This Virginia-based company offers a wide variety of experiences. From feeling weightlessness in a specially modified Boeing 727 ($4,950) to a suborbital spaceflight in which you will actually fly into space ($100,000) to an orbital spaceflight that will keep you above the Earth's atmosphere for 12 days (price upon request), there's an offering for the curious and the more adventurous.