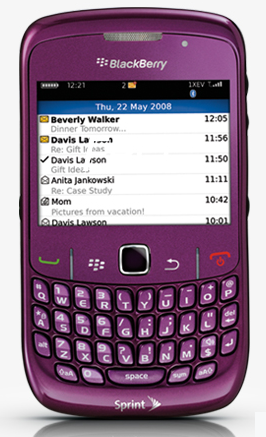 I've seen pink BlackBerrys, gold BlackBerrys, white BlackBerrys, red BlackBerrys and then all of the standard-colored BlackBerrys, but royal purple? This is a delightful treat. The new
BlackBerry Curve 8530
should be coming to Sprint
some time this month
, but we still don't know specifics about price (Verizon is charging $100 after a mail-in rebate, so you can expect something comparable).
Granted, it may not be the high-end BlackBerry Bold 9700, but it still offers the new trackpad, a QWERTY keyboard, WiFi functionality, and a 2-megapixel camera and camcorder.
If the new royal purple doesn't exactly do it for you, you can pick one up in black.