Stop worrying about Sharknado . . . the Steam Summer Sale [1] is upon us! Valve Corporation's game distribution hub is slashing prices on some of its most popular games, but only until July 22. Flash deals only last eight hours, while daily deals last 24 hours.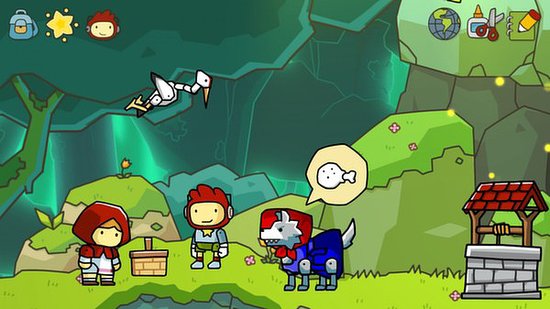 Skim through our top three picks, and see additional titles on sale below.
Scribblenauts Unlimited [2] ($5, originally $20) — Maxwell is your companion in puzzle-solving. In this fun, brain-teasing side-scroller, you must complete ScribbleQuests and help others to receive Starites. This edition explores the dynamics of Maxwell's family: his parents, 41 siblings, and magical notepad.
Don't Starve [3] ($9, originally $15; $14 for two copies, originally $23) — Science and magic are at your disposal in this wild game. As gentleman scientist Wilson, you must figure out a way to escape the trappings of the wild and use your natural surroundings (and its monstrous, alien inhabitants) to do so.
Endless Space [4] ($10, originally $30) — In this galactic indie hit, guide one of eight civilizations through space, take over other planets through diplomacy or by force (up to you), and discover hundreds of star systems and planets.
Read up on more great game deals after the break.
July 12 Daily Deal: Chivalry: Medieval Warfare [5] ($6, originally $25) — Pillage, plunder, and raid in this fast-paced, medieval-themed action adventure.
Call of Duty: Black Ops II [6] ($30, originally $60) — The military franchise goes futuristic, launching its soldiers into a 21st century Cold War.
The Walking Dead [7] ($6, originally $25) — Based on the comic book series, the game focuses on the story of criminal Lee Everett, a zombie-killing vigilante.
Fez [8] ($5, originally $10) — An adorable 2D creature meets a 3D world full of secrets and puzzles and must look at the world in a different way to complete his journey.
BioShock Infinite [9] ($30, originally $60) — A veteran, Booker, and a kidnap escapee, Elizabeth, team up to escape the flying city of Columbia.
Toki Tori 2+ [10] ($10, originally $15) — Pick up and play the puzzle-loaded Toki Tori right away.
Hotline Miami [11] ($2, originally $10) — Walk the streets of 1989 Miami, but beware: violence is rampant, so keep your wits about you.
Duke Nukem 3D [12] ($6, originally $10) — The Megaton Edition of the classic first-person shooter includes three unique expansion packs on top of the original game.
Little Inferno [13] ($5, originally $10) — In this beautiful indie, tap into your inner pyro and burn toys, cards, logs, robots, batteries, exploding fish, and more.
These are the games we'll be wiling away our vacation days with — but what about you? See the complete list of deals [14] from Steam's Summer Sale, and let us know which titles will keep your eyes glued to the screen this season.