Top Love Songs Playlist
Give Your Valentine Some Streaming Playlist Poetry
For when finding the right words for your beloved doesn't come easily, Spotify has introduced its 21st-century version of the mix tape, the old sentimental standard, with Playlist Poetry. Use the poetry search box to add in preset love-themed phrases and words like "Kiss" or "Your True Love," which just happen to correspond to songs by the same name.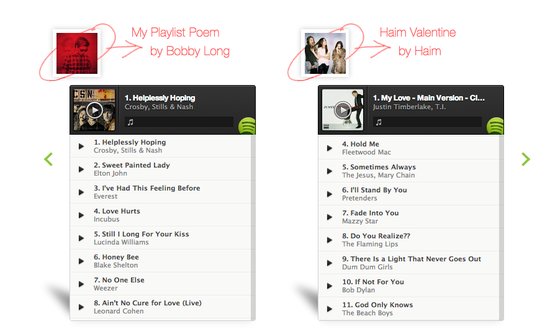 Also search for specific songs to share with your sweetie. Then, once the poetic song title components are ready to go, create the playlist by selecting Publish Your Playlist Poetry. From there, mon cheri, share the medley of songs with your one and only on Valentine's Day for a musical ode to all that is the magic of your love.
Or, if there's no time to stop and find the song titles that adequately express your feelings, just use Spotify's Top 10 Love Songs playlist. The songs, including work by Jason Mraz and Adele, were selected by the company based on streaming data coming from users' love song playlists. Read on to listen to what Spotify says are the top songs to listen to on Valentine's Day.