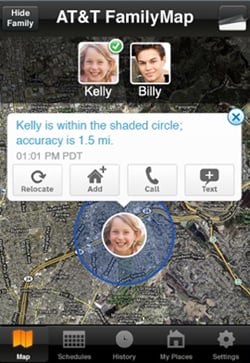 AT&T just launched a new iPhone app called FamilyMap [1], which allows you to track the location of any phone on your AT&T Wireless family plan from your iPhone.
Do you hear that? It's the sound of 16-year-olds across the country completely freaking out. While this service has been available from AT&T for a while, until now parents had to log onto their computers to figure out where their kids (and their phones) were. Now they can do it straight from their iPhone [2]. The service is $10 per month to track two phones, $15 for up to five.
I have mixed feelings about this. I'm not a parent, but I am, of course, pro-safety, and tend to feel if your parents are paying your cell phone bill, they have every right to know where the phone is at all times. And if you're a minor, your parents do have the right to know where you are at all times.
On the other hand, there's something to be said for privacy, and it freaks me out a bit that someone could conceivably be checking up on my whereabouts. It's one thing to use a service like Foursquare [3] or Loopt to voluntarily let others know where you are; it's another entirely to have someone checking in at any given moment.
What do you think?