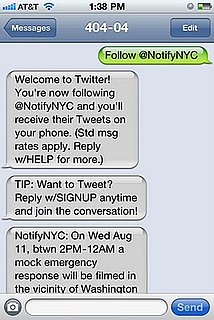 Until now, if you wanted to "follow" a user on Twitter, but didn't have an account, you'd have to visit their Twitter user page directly, refreshing it to view new tweets. Now, a new SMS feature called
Fast Follow
from Twitter allows anyone in the US with a cell phone to "follow" certain users, receiving their Twitter updates as text messages in real time.
To use the service, text 40404 with the username you'd like to follow. For example, if you want to follow @geeksugar (recommended, of course!), text "follow geeksugar" to 40404. No need to include the @ symbol. This feature is only available to US customers, but Twitter is working to bring it to other countries.
This service is especially useful for following breaking news or local emergency news in your area; you don't have to check Twitter or rely on another news outlet for the information, it will come directly to your phone.