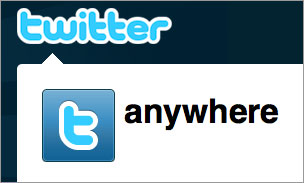 In a SXSWi keynote address earlier today, Twitter CEO Ev Williams
announced Twitter's new ad platform
,
@anywhere
. @Anywhere will take content sites we visit every day and "recreate open, engaging interactions providing a new layer of value for visitors without sending them to Twitter.com." In its simplest form, the service allows a user to follow people and companies directly from their websites. For example, if you're reading an article on a site like
NYtimes.com
, you'll be able to immediately find and follow the author on Twitter — without navigating away from the content you're reading.
Williams hopes this new platform will help lower the adoption barrier for new Twitter users, since they will be able to easily follow and communicate with other fans and content. It also helps to solve the problem of how to find interesting and relevant people and content to follow. This will be a big help for businesses, as they can garner many followers directly from their sites. Launch partners include Digg, Yahoo, the New York Times, Bing, and others.