Two New MacBook Airs Introduced
Apple Launches Two New MacBook Airs, Available Today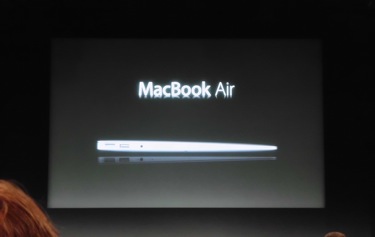 At this morning's Apple event, Steve Jobs told us that if a MacBook and an iPad hooked up, we'd get the new MacBook Air. But they've been busy — there are two! Introduced today, the 13.3-inch and 11.6-inch MacBook Airs come in at less than three pounds and are wedge-shaped — 0.68 inches at its thickest and 0.11 inches at the thinnest for the 13.3-inch — and come with an all-aluminum unibody. With HD backlit LED displays (with more pixels than the new MacBooks), core 2 duo processor, and FaceTime cameras, the new MacBook Airs are meant to be taken on the road.

There's no optical drive and no hard drive, but the new MBAs have flash storage (which comes in the iPhone and iPad), making them more reliable and super quiet. Both Airs come with up to 30 days of standby time, while the 13.3-inch Air has seven hours of battery life and the smaller 11.6-inch model boasts five hours.

Get the lowdown on prices after the break.

The 11.6-inch MacBook Air will start at $999 for a 64GB model and $1,199 for 128GB of memory, while the 13.3-inch edition will start at $1,299 for 128GB and $1,599 for 256GB.