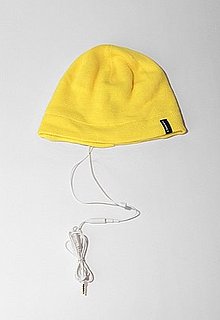 Geeky Winter trend I love:
cute cold-weather accessories
that
double as headphones
. Here's the latest offering for protection from the cold
and
great sound. The
Sound Disk Beanie
($60) is a comfortable knit hat with ultra-thin disk speakers inside. The hat/headphone combo is compatible with any MP3 player.
It comes in three colors: neutral black or beige, or a bright, sunny yellow. Disk shaped speakers slip into specially-shaped pockets in the hat; simply remove them for cleaning. Stay warm while listening to all of your favorite music, wherever you are!