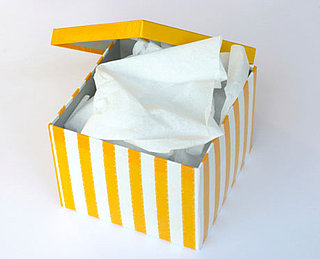 In honor of National Photography Month, I'm serving up a new photography tip every weekday in May. Today's tip comes from San Francisco-based photographer
Meg Messina
, who wowed me with this tip last year. In fact, it made my list of
top photography tips of 2009
, so I had to share it again.
In order to avoid too harsh a flash when using an SLR camera, which can happen if you point your flash directly at your subject, Messina suggests taping a piece of tissue paper over the flash to diffuse it. This helps to soften the light before it hits a subject's face. Just be careful to keep the tape away from the flash itself, since it can get in the way and add a strange shadow to the photo. And, yes, I'm talking about the same white tissue paper used to line gift boxes — so it's inexpensive, too!
Be sure to check back each day for more photography tips and share your favorite photos in the Cool Capture group. Submitting a photo could win you a CanvasPop print in our Cool Capture contest.