Walmart, Kmart Black Friday Ads 2010 2010-11-16 03:47:29
More Black Friday News From Old Navy, Walmart, Kmart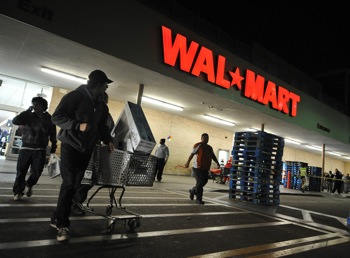 The Black Friday train is chugging along, and even though their ads may have been leaked a little early, Kmart, Old Navy, and Walmart are officially showing off even more of what we can expect on Nov. 26.
Charting your Black Friday plan of attack? Be sure to take note of these deals before you head out:
Purchase $25 dollars worth of merchandise at Old Navy and get a free copy of Dance Central for the Kinect.
Kmart is offering up game titles like Fable III for just $40, while Mass Effect 2 and Rock Band: Beatles will be priced at just $10 and $15, respectively.
If you're looking for a Sony product (including PSP, PS3, and PS2 games), Sony Insider has compiled a buying guide that lists of all the products on sale and where to get them on Black Friday.
Find out more about what Walmart has up its sleeve, including the insane hours they'll be holding and some pre-Thanksgiving savings, after the break.
Walmart has announced that it will be open starting at midnight, Nov. 26, and offering up deals on products in waves. First up is toys, apparel, and home goods when doors open at 12 a.m., followed by big savings on electronics at 5 a.m. Items you should look out for include:
Nintendo Wii (with $50 Walmart gift card) for $199
Emerson 32" LCD HDTV for $198
Nintendo DS Lite for $89
Magnavox WiFi Blu-Ray Player (with $10 free VUDU movie credits) for $69
15.6" HP Laptop for $298
Walmart is also discounting smartphones in a mobile sale starting on Wednesday, Nov. 17. You can get huge deals on these great phones:
BlackBerry Curve3G — $29
AT&T
BlackBerry Torch — $99
HTC Aria — $49
Samsung Captivate — $99
Sprint
BlackBerry Bold — $99
HTC EVO 4G — $199
T-Mobile
HTC HD7 — $149
myTouch 4G — $149
Verizon
Motorola Droid 2 — $149
Motorola Droid X — $149
HTC Incredible — $99