Website of the Day: Lovelines
A sister site to We Feel Fine, Lovelines examines thousands of blogs every few minutes to find expressions of love and hate, and shares them with its readers. When it can, Lovelines identifies and saves the age, gender, and geographical location of the person who wrote the post, and then presents that information along with the post. The entries range from the unimportant "I like donuts" type of statements to the more profound "I love that she understands," offering a little window into the lives and hearts of bloggers around the world. It does this through "large scale blog analysis," which translates to using the data collection engine created for We Feel Fine. Its creators call it an "exploration of human desire." I call it a sweet look at how vulnerable, romantic, funny and emotional we all are.
Lovelines starts with a white screen, bounded on the bottom by a slider running from "love" to "hate," with a draggable heart that becomes scratched out to the point of illegibility as the heart approaches "Hate". As the slider is pulled through love, like, want, indifference, dislike, and hate, words and pictures appear above to represent the chosen state of desire or despair. As you move the slider from love to hate, a barrage of sentences flash on the screen from "I love the way spring lights up the sky,""I like when you smile in the morning" to "I don't like when sleeves are short." If you click on the sentences, you are taken to the original blog or photo and can learn more about the person that penned the statement.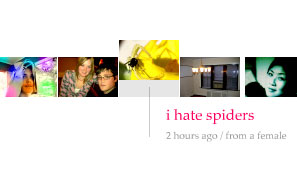 To check out more picture Lovelines, read more