Website What Does the Internet Think Tells You Internet Opinion on Subjects
Website of the Day: What Does the Internet Think?
Like us on Facebook
Forget taking an informal poll of your friends, you know what you really want to know what your virtual audience thinks — your Twitter and Facebook peeps, and basically, the world at large.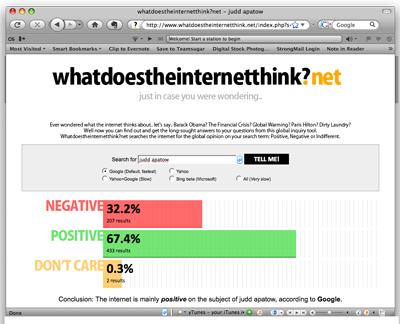 Find out what the new public opinion is on any subject with What Does the Internet Think?. Enter in anything you're curious about, from celebrities to movies to random subjects like donuts, and the site tells you if the general opinion is positive, negative, or indifferent. The results are compiled from Google or other search engines depending on preference. How does it determine good, bad, or ambivalent? Don't worry. The Internet knows.
To learn how to post your favorite websites to our Website of the Day group,
.


First of all, join the Website of the Day group.
Click "New Post" under the website of the day tab at the top of the page.
Give your story a "Title."
Fill in the "Body" with a link to your favorite website and the reasons why you love it.
Type "Technology and Gadgets" in the Categories box
Add keyword(s) in the tag field with relevant tags (for example mine for this story was "Website of the Day").
Choose whether you want the post to be private or public.
Click "Create Post" to submit content.
So join the Website of the Day group and share information about all your favorite sites! Yours just might end up on the geeksugar homepage!