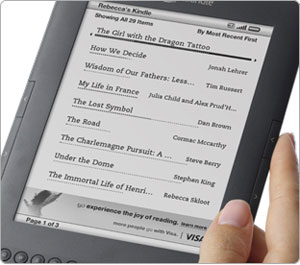 The Kindle is already one of the best deals on the market (I use mine every day), and things are about to get a little more affordable: the latest version of the WiFi-only Kindle will hit the market on May 3
for just $114
, but will be supported by sponsored screen savers and special ad offers.
The good news is there won't be any annoying pop-up ads to interrupt your reading, but there will be some sweet deals and offers to take advantage of, like $10 for $20 Amazon gift cards, $1 albums, and download discounts that will beef up your library. Sure, it's only $25 off the regular WiFi-only price, but hey, you can't pass up a good deal, right?
Plus, if you like our Faceoff games, Amazon is including a game of their own called AdMash, where you can select the best out of two side-by-side ads to help tailor the look of future screen-saver ads.