Geek worlds collide: the starlets of Game of Thrones, Orphan Black, and more came together for one kick-ass panel at this year's Comic-Con. Sons of Anarchy's Katey Sagal, American Horror Story's Sarah Paulson, Sleepy Hollow's Nicole Beharie, and a few of our favorite geek girls — Orphan Black's Tatiana Maslany and Game of Thrones' Maisie Williams [1] and Natalie Dormer [2] — were featured in Entertainment Weekly's annual Women Who Kick Ass discussion. We learned a lot of juicy bits about these leading ladies, like which superhero they'd like to be and which moment of the past season was the most kick-ass for their characters.
Source: Getty [3]
Tatiana Maslany, All the Clones of Orphan Black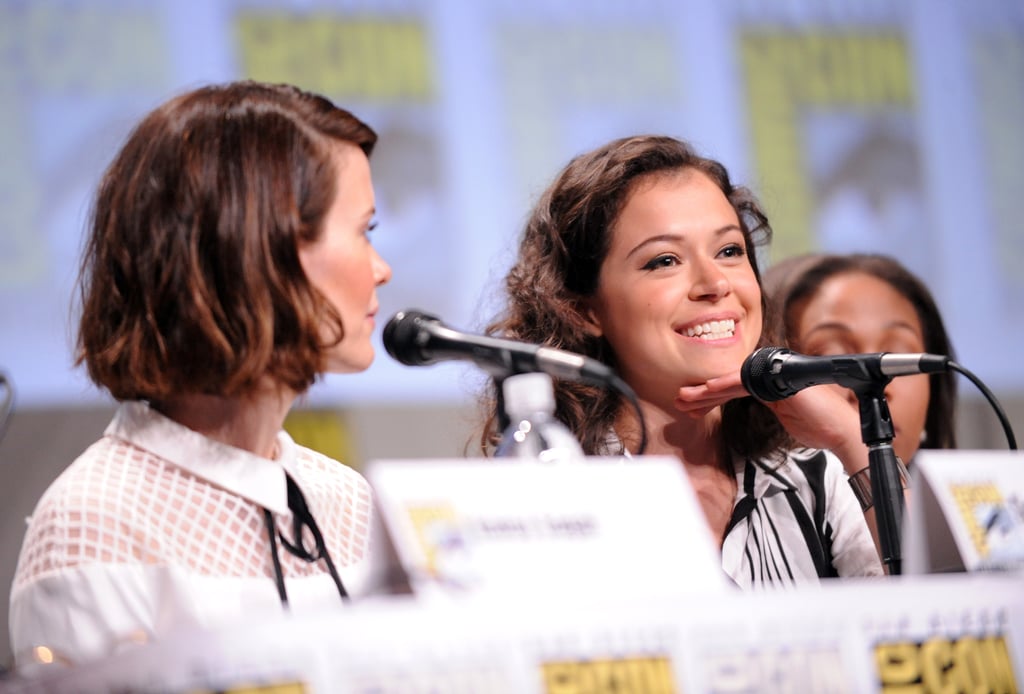 Who is a kick-ass female emeritus to you?
"Leela from Futurama!"
What superhero or villain would you want to play?
"I'd love to be Raphael from the Teenage Mutant Ninja Turtles. He's got a great Brooklyn accent."
What scene would you want for yourself?
"In episode two of season two, Mrs. S shows her true colors. She murders a couple people in cold blood. I just wanted to be Maria really. She has such a stillness and a violence in her that I love."
What's your favorite kick-ass moment?
"When Alison was forced into an intervention, she has this moment where she projectile-vomits on all of her friends. It was so exciting, because she's so contained, perfect, and pretty. For her to scream sketchy words at people, it was really a thrill."
The scene that made you take the part:
"It was the opening scene of season one of Orphan Black, just the introduction of Sarah's character and how she wasn't likable in any way. Everything she did was deplorable. She wasn't a good person on the outside. I was drawn to that idea. I was fascinated by her and wanted to embody that criminal thing."
Tatiana, you're No. 1 through No. 7 on the call sheet. You've never played an adult before this role. What was that like?
"The closest I got was Mary mother of Jesus, but she was 15. I had always played characters 10 years my junior, so this was nice, stepping into my own womanhood and moving into a position of leadership and responsibility as an actor. The great thing is that I get to explore all the insecurities that go along with that power. Sarah's running away from being a mother, while Alison is alpha mom. There's a beautiful gamut that I'm able to play with."
Why did you choose to make playlists as a technique for getting into character?
"Music is a big thing for me. Dance has always inspired me. I wanted to come to the characters with a physical change, internal change, rhythmic change. I went to music and felt that a certain playlist would move me in a different way and a different palette of emotion to work one. Music has that kind of transformative quality to it."
On going out of your comfort zone:
"This season we introduced a new clone, Tony, who's a transguy, and for me that was a huge responsibility and privilege to explore gender in that way. Our show is about identity, and it was a perfect direction for our show to go. It challenged Jordan Gervaris, who plays Felix, and I because we've had so many dynamics between us, and this one got into a sexual tension. To me pushing out of my comfort zone, as soon as I have fears or doubts, I think, 'That's where I have to go as an actor.'"
What's the most amount of characters you've had to play?
"Three is the most. Logistically, it's a nightmare. Then we did the four-clone dance party, and that was two days of major choreography."
Natalie Dormer, Margaery Tyrell of Game of Thrones, Cressida of Hunger Games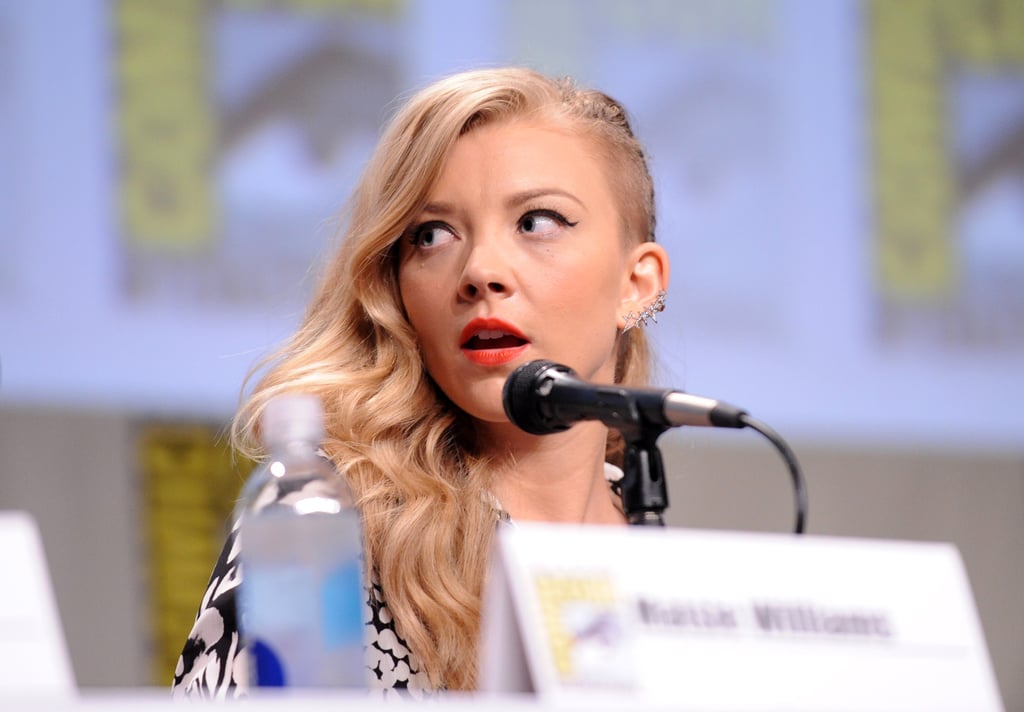 What superhero or villain would you want to play?
"I was always a huge Batman fan. The psychology of that man is so interesting. It's why there have been so many reincarnations."
Who is more ruthless: Arya or Margaery?
"The answer is that Game of Thrones shows all the ways you can wield power. Whether's it's psychological, physical . . . dragons. That's the secret of the writing. That's why the show is compelling. It's about giving people weapons physically and metaphorically and seeing how they use them."
The scene that made you take the part:
"The audition scene for Margaery was where she asks Renly to use Loras, her own brother, instead of her. I had watched season one, and I thought Thrones just wrote three-dimensional complex women really well. I just wanted to be a part of the show."
On Margaery's motivation — evil or well intended?
"Why television is fantastic and is way ahead of film is that it doesn't feel the need to polarize women so much. I experienced it in playing Anna Boleyn as well. . . . Make her the witch, or put her on a pedestal. With Margaery, they said, 'Those aren't mutually exclusive. You don't have to be practical, politically savvy, and a good person. You can be a good human being, but you can also be shrewd. They're not two separate things.' Half the people in this room are female; we're as complex and contradictory as the men, and Margaery reflects that."
On training for the Hunger Games.
"I've had a lot of fun in Hunger Games running around with a semiautomatic rifle. I was ready to get rid of the silk skirts and corsets. But now after nine months of mud and dirt and, yeah, being really physical, I'm ready to go back to the silk skirt."
Would you trade roles with any castmates?
"There's this quiz online: which Game of Thrones character are you? I did it — and I got Arya Stark."
What pisses you off about Hollywood right now?
"It's not fair on you guys, who are watching us. You don't realize how much makeup, how much lighting is going on to make us look good. It's not healthy for young girls to be flicking at magazines and watching these shows. There's a more European feel to French films, in that they're open to the quirks of human nature, that we're not symmetrical, that people are oddballs, aesthetically and emotionally. . . . The best female roles are in television. Except for Katniss Everdeen, who is an anomaly."
What's a unique way to learn a stunt?
"Jennifer Lawrence [4], when she shoots the arrow, nine out of 10 teams it's CGI put in. That wasn't the case in the first film, but that had to change it for filming reasons. But she shoots arrows, the real thing, for training, constantly. Constantly! So that the action is 100 percent authentic."
What's your favorite kick-ass moment?
"When Margaery says, 'I want to be THE queen.'"
Maisie Williams, Arya of Game of Thrones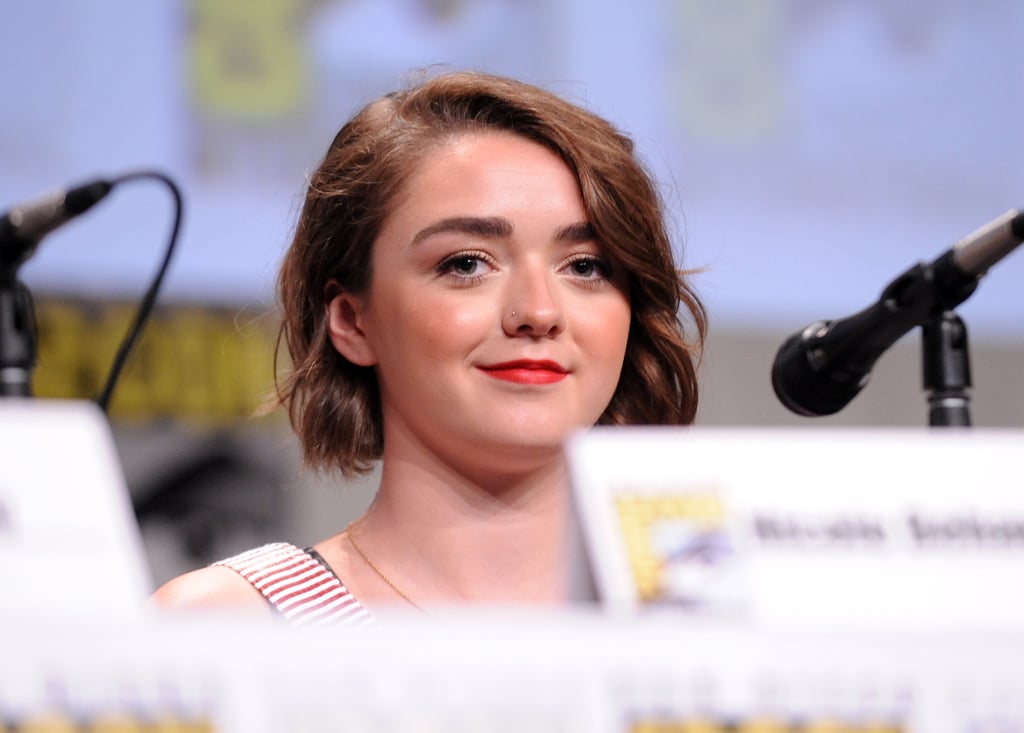 What was it like filming the last scene with the Hound?
"Doing that scene, I knew it was coming for a long time. The way it was done in the series was different from the way it was done in the books, and I was wondering how people were going to react to that.
"Rory McCann [the actor who plays The Hound] and I, we spent a lot of time together this year and he is such a great guy. When I read it on paper, it seemed to go really seamlessly. It just felt really natural. Sometimes, you have to change a lot of things to please people on set."
Tell us about training for Arya.
"In the books Arya was written as a left-hand fighter, and I am right-handed. When production started, I wanted to do everything left-handed. It started out as good fun, and now it's turned out to be really difficult. But I'm sticking with it, and it turned out fine. A lot of time I come in to learn a fight sequence and it's been choreographed right-handed, and I have to say we've got to change it all. It's a bit of a nightmare, but it's exciting."
Would you trade roles with any castmates?
"Cersei Lannister!"
What's your favorite kick-ass moment?
"Arya is usually very confrontational, except for one scene in season two. When she says to Tywin, 'Everybody can be killed,' and he doesn't know that she's Arya but she knows what that means to her."
Who is more ruthless: Arya or Margaery?
"The way Margaery can manipulate characters is not something to be messed with. For different reasons, Arya is ruthless because she's physically brutal. Some of the kill scenes that's Arya had, it's brutal for a 12-year-old to be experiencing that firsthand. . . . You can't live your life like that and be OK in your head forever. In episode 10, there is no reason as to why she's leaving The Hound. She's not sure what's right or wrong. It's about all these people trying to desperately gain power, or revenge. "
What scene would you want for yourself?
"More stunts. A lot of the time we have doubles in case we get injured or whatever, which is so stupid. I'd love to do more work with horses. Richard Madden, who plays Robb Stark, got to actually gallop, and I want to actually gallop."
Sarah Paulson, Cordelia Foxx of American Horror Story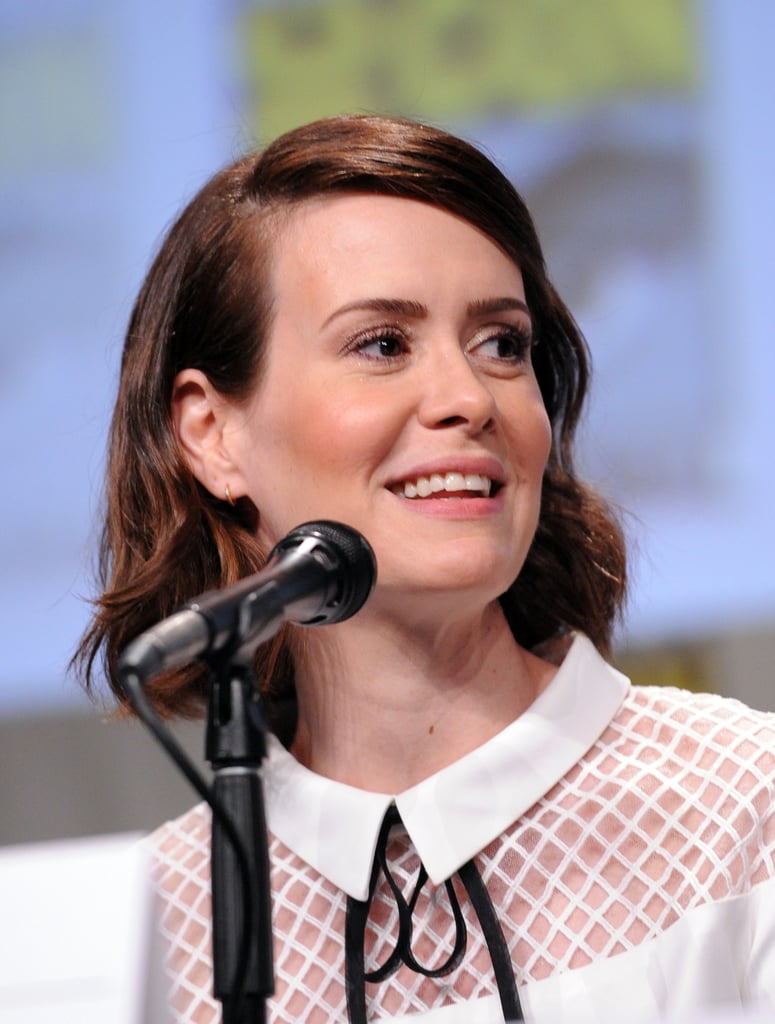 The scene that made you take the part:
"She does this scene in season two where I [Lana Winters] had to simulate masturbation . . . to make herself a heterosexual, even though she was homosexual. That was a challenging thing to do. For my father and mother to watch . . . It was really something. "
Katey Sagal, Gemma Teller Morrow in Sons of Anarchy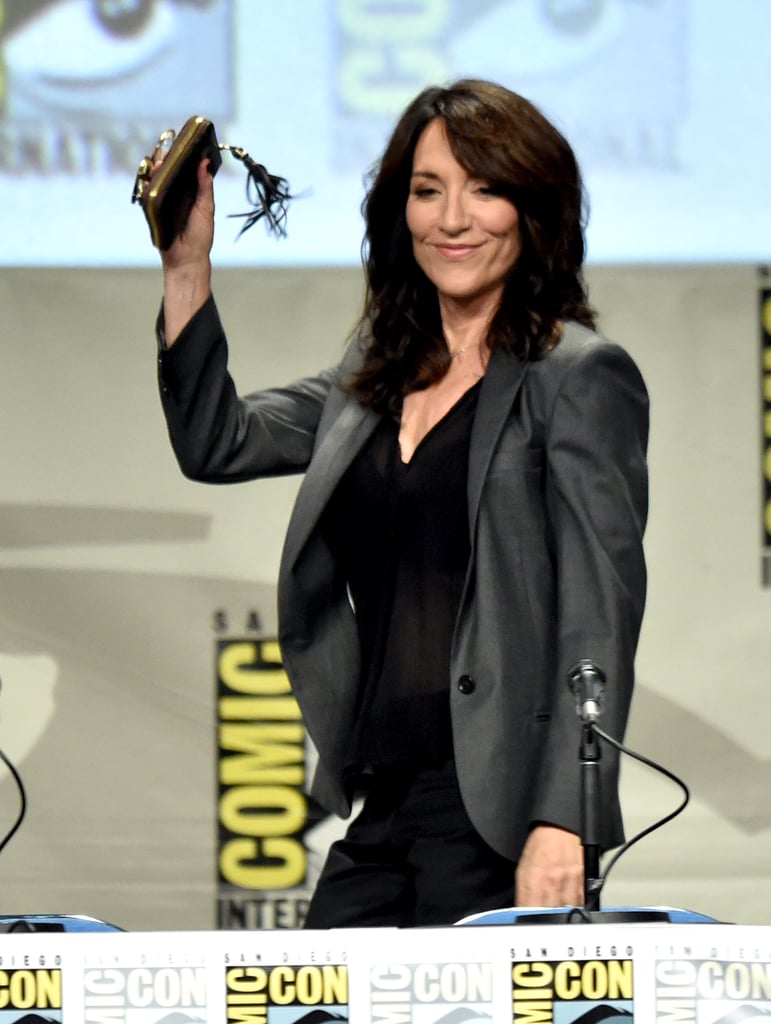 The scene that made you take the part:
"In the first season of Sons of Anarchy, I got to take a syringe to Drea de Matteo, and it was the most calm way I threatened her life. That was something I never got to do. Plus, I got to wear all that leather, so that was good."
Watch the whole panel here!