Bust out those vuvuzelas — the FIFA 2014 World Cup in Brazil [1] is under way! If you're not excited about all the "GOOOALLLLLSSSSSSS" [2], then maybe these apps and websites will help get you prepped for soccer season. No matter what team you're rooting for, there will be something to cheer about (like all those studs on the field [3]). Fútbol fans, feel like you're a part of the action, and don't miss a single score with these fun bits around the web.
Source: Getty / Kevin C. Cox [4]
Don't miss a goal — even when you're at work.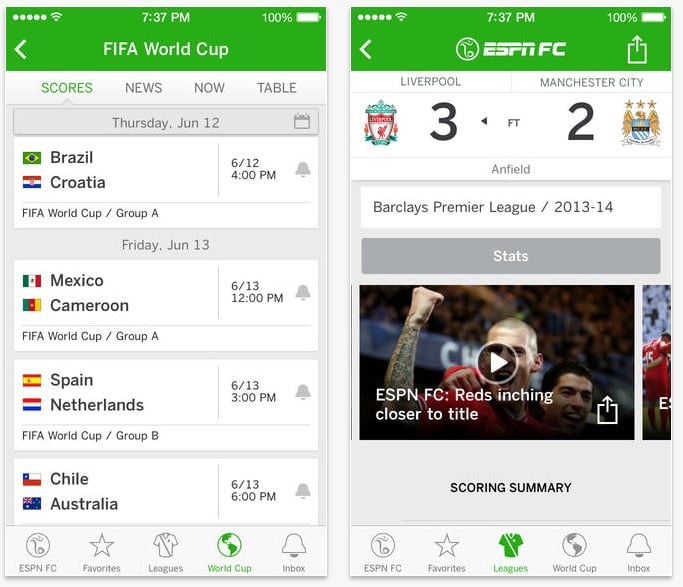 ESPN's official FC Soccer and World Cup apps for Android [5] and iOS [6] (free) keep fans in tune with the latest highlights, scores, and news on the go. As the exclusive FIFA official US broadcaster, ESPN is offering live match video highlights.
The WatchESPN app for iOS [7] and Android [8] (free) will live stream all 64 matches on mobile devices — but you'll need a cable, satellite, or cable TV subscription.
Add the entire World Cup schedule to your Google Calendar.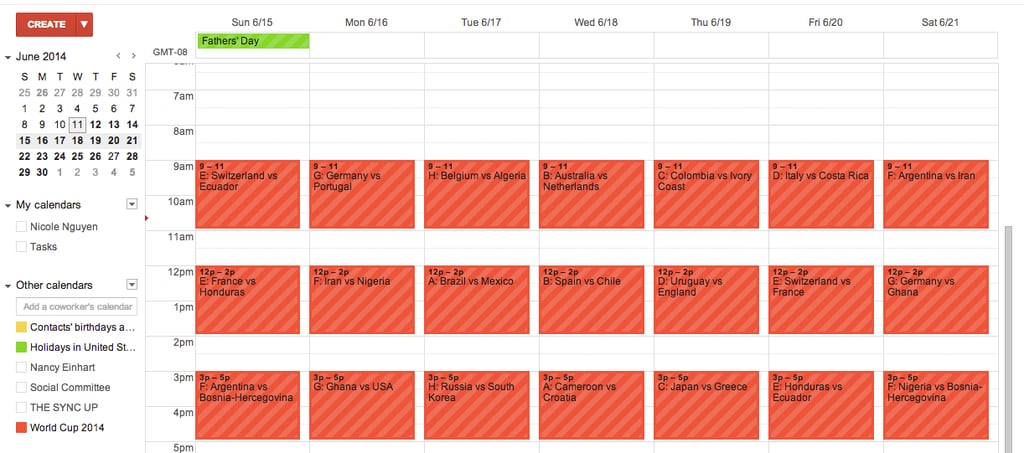 Embed the Cup into your life by shazam-ing the entire schedule onto GCal. Open google.com/calendar [9], and head to the left where it says "Other Calendars." Click on that little arrow and select "Add by URL," then paste this entire URL [10] into the field.
You can also go to this page [11] and click "+Google Calendar" down at the bottom right.
Follow custom timelines for each individual game on Twitter.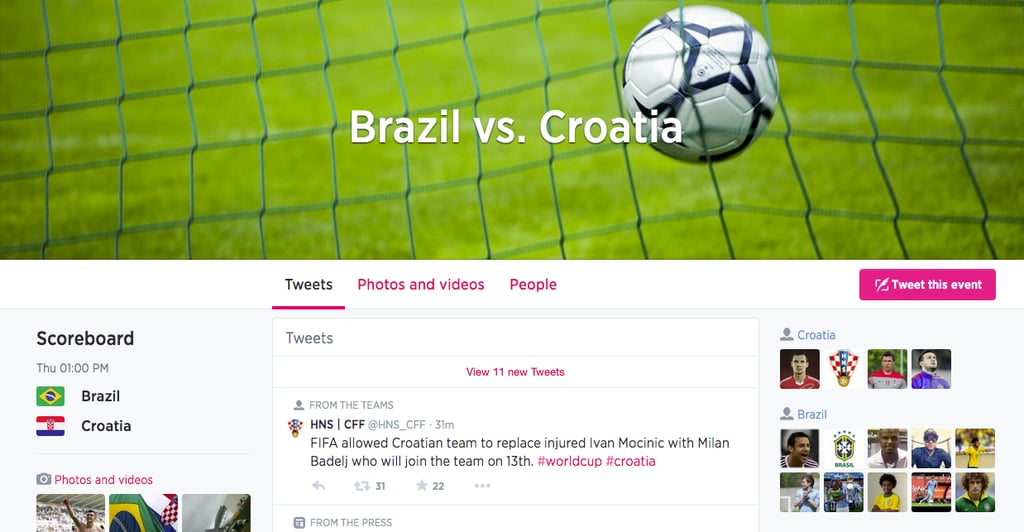 Twitter has new hubs for every World Cup match, like Thursday's Brazil vs. Croatia [12] game at 1 p.m. There's a live scoreboard if you aren't able to stream the game, a list of players on Twitter from each team, and tweets that denote whether the message is from press, fans, the venue, or the teams.
Discover: where does your country's allegiance lie??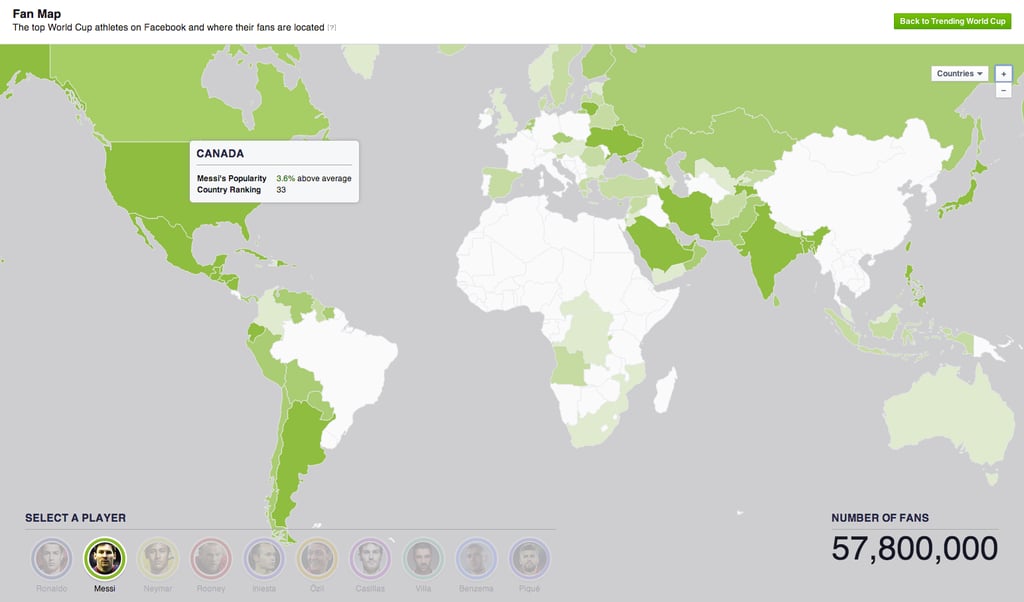 Facebook's Fan Map [13] takes a look at the sport's top players and where their fans live. Cristiano Ronaldo has 10 percent above average popularity in the US, while Lionel Messi follows in second at 5.2 percent above average popularity.
Use Google Maps.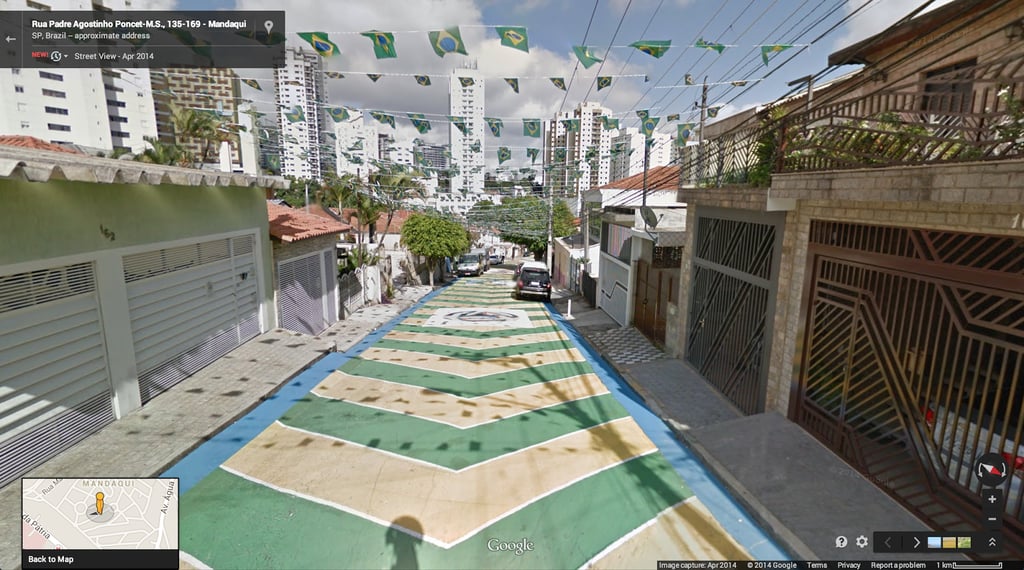 If you haven't already packed your bags for Brazil, it's probably already too late. But thanks to Google Maps Street View [14], you can get up close and personal with all 12 stadiums [15]. You can also walk down the iconic painted streets [16], a Brazilian tournament tradition, like the one you see here. It feels like you're there — almost.
If the fútbol festivities make you a bit nostalgic, rewind time to the World Cup in South Africa [17] four years ago.
Get to know a different team from around the world.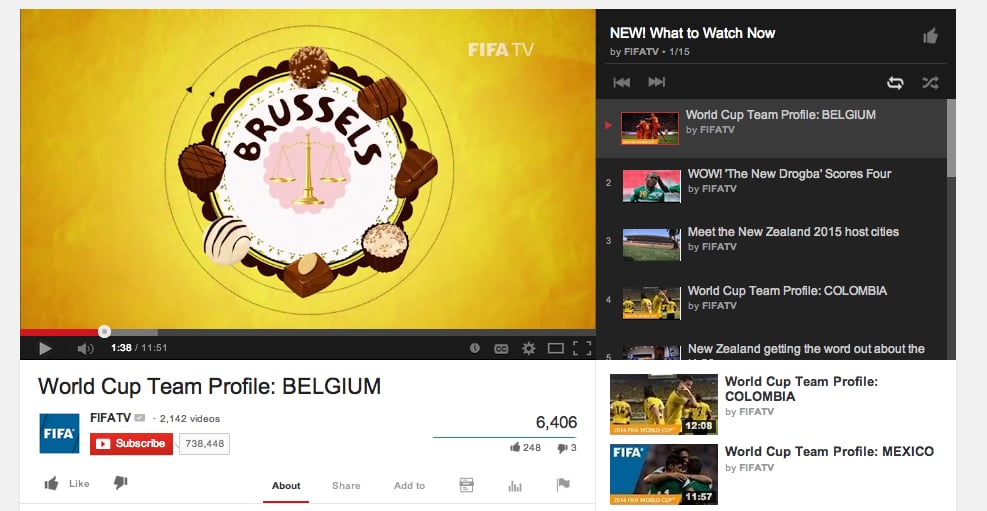 The official FIFATV YouTube channel [18] is your introduction to teams you might not know — but should — like Belgium and Colombia. "Stars of the Future" is a video series that takes a closer look at the sport's up-and-comers, a good place to start so you can keep your eye on their progress throughout the Cup!
Deck out your desk in World Cup accessories.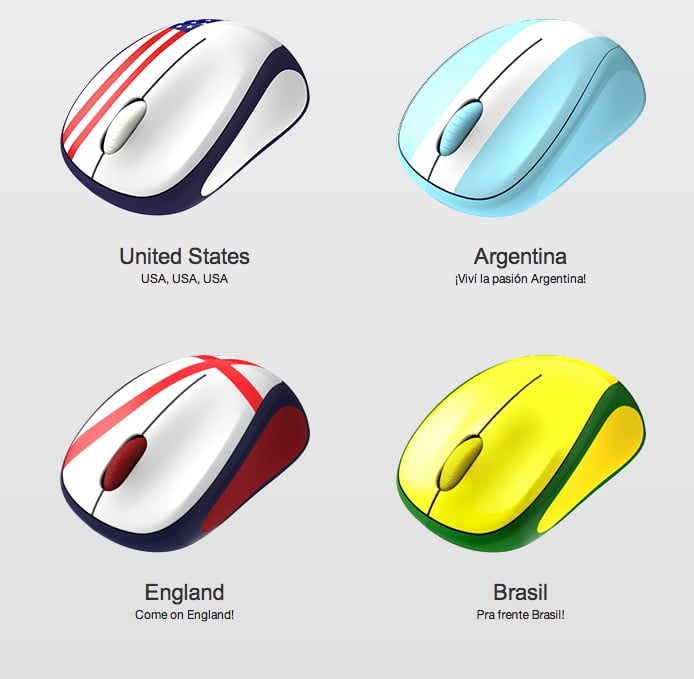 Why hide it — you love soccer and want the world to know. For the truly devoted, try one of Logitech's Global Fan Collection mice [19] ($30 each). It's a wireless trackpad alternative with soft rubber grips. Just plug the tiny receiver into your computer's USB port, and you're ready to roll.
In addition to the countries shown here, colors are available for Italy, France, the Netherlands, Spain, Mexico, Switzerland, Portugal, and Germany.
Rep your favorite team with epic wallpaper for your phone.
EA Sports has 2014 National Team Wallpapers [20] for every screen size: desktop, Android, and iPhone. Best of all, they're free!
And don't forget to enjoy the eye candy.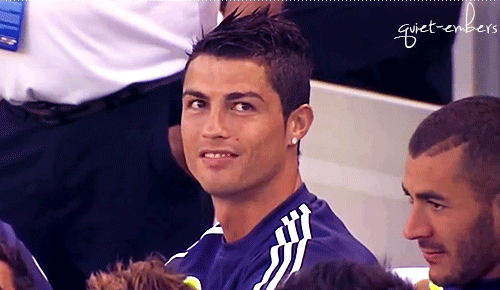 Hi, Cristiano.
Source: Tumblr user marcusbartra [21]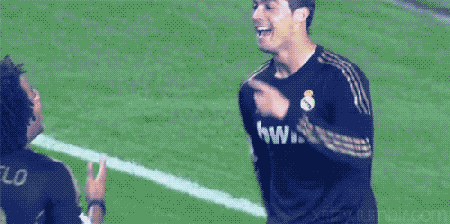 Sweet moves.
Source: Tumblr user iluvvanity [22]