OK, so how many times have you bragged to a group of friends that you beat your all-time high score on Guitar Hero after a monster jam session, only to be blasted for not learning to play a "real" instrument? Yeah, I've been there too, friend. Now you can take your rock prowess from the console and blend it with actual chord knowledge with the You Rock guitar.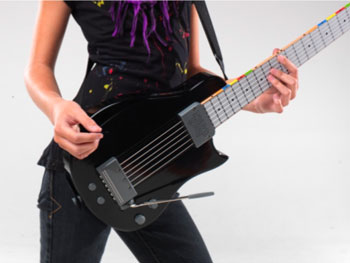 This USB controller does so much more than make you feel like a rock god when playing a video game — it's also a MIDI controller, so you can play and record songs on your iPod, MP3 player, or audio recording software, hook up some headphones to play in silence (to the outside world, anyway), and still rock out to
Guitar Hero
or
Rock Band
. The You Rock guitar has colored keys so you can strum along with your video game, and real strings so you can take things to the next level at home. Priced at $180, it's the perfect gateway from gaming to real-life rocking.