Zombie Yourself
Scary Photo Apps to Turn Anyone Into a Monster
Like us on Facebook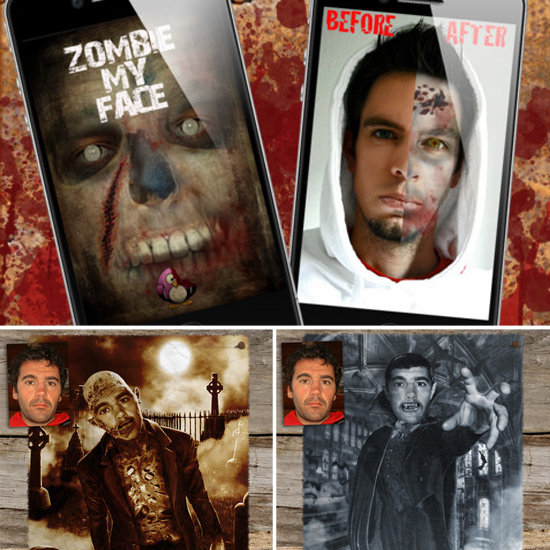 No makeup, costume change, or full moon necessary to transform yourself into a terrifying werewolf or a stomach-churning zombie thanks to a little tech magic. Incite fear in your friends with chilling photo effects that look a little too real, then take their photos and zomb-ify them, too! Have a blast this Halloween with these six creepy photo apps for iOS, Android, and the web.
iOS Apps
Zombie My Face Pro (free) — Enter this photo booth as human, exit as zombie. Tone down the opacity of zombie effect layers to make the images even more haunting, or add masks, eye colors, and gore.
Monster Booth HD ($1) — Turn photos into vintage horror film-style, sepia-toned images of zombies, werewolves, vampires, hunchbacks, aquatic beasts, or Frankensteins. The terrifying creatures are set against different eerie, mythical backgrounds, as frightening as the monsters themselves.
Android Apps
Zombie Yourself (free) — Take a photo or add one from your mobile gallery — then zombify! Send your gruesome portrait to friends and family, or share it on Facebook.
Monster Booth Lite (free) — Let the app's auto setting monsterfy photos or do it manually with photo distortion tools that scrunch, blow up, or warp parts of your face, rendering a headshot unrecognizable.
Websites
Make Me Zombie (free) — From the makers of MakeMeBabies and In20Years comes the latest in photo manipulation web technology: Make Me Zombie! Upload a photo and the site turns it into a green grotesque, bloody monster then cheerfully share with friends.
Frankenstein Photobooth (free) — Frankenstein, one of the most classic terrors of all, is often left behind in the wild popularity of zombies. Bring back Mary Shelley's classically terrifying scientific experiment with the Frankenstein photo booth.
Front Page Image Source: Shutterstock / Andreas Gradin