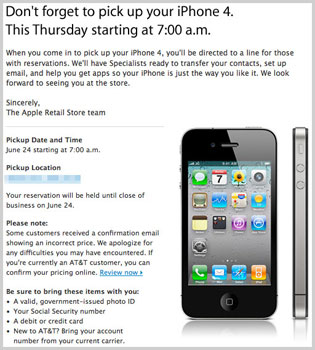 My heart skipped a beat when I received an email from Apple this morning (I thought it would be one of those
dreaded cancellation notices
we've been hearing about), but really, it was just a reminder from Apple to pick up my iPhone 4 this Thursday, June 24,
starting at 7 a.m.
In the email, I noticed something that sets this launch apart from other releases — Apple stores will be separating the preorder customers from the nonpreorders, making things less painful for all involved. If you already have your iPhone 4 preorder, at least you won't have to sit and wait in a huge line! I guess
that guy in Dallas
(who already preordered his iPhone) may be wasting his sweet time by
camping out
a week before the launch!
Another detail worth noting in the email is that Apple addresses price discrepancies that some customers have been finding on their order confirmations. You'll want to check your pricing online through AT&T's website to see if you're getting the upgrade eligible price or the regular iPhone 4 price.