iPhone Day: Line Watch (Part III)
1:15 pm: SFSU student Amanda Ryvarczyk may not have the prime ticket spot in front of the Apple store like Jerry Taylor, but she did score a front row seat at the AT&T/Cingular store just up the street. Ryvarczyk and friend J. Martin (shown below) headed out to the Apple store in downtown San Francisco at 2:30 am last night and decided to swap their No. 60 spot in that line for a No. 1 spot at the Cingular store just after 3 am. Ryvarczyk said her "techie boyfriend" tipped her off Thursday night about the iPhone madness so she decided to cash in by placing an ad on Craigslist offering her services as an iPhone "line-sitter" - kinda like the professionals over at iWait. In a matter of a few hours, she had an offer for $500, which was enough to convince her to take the day off from work.

Unlike his friend, Martin will be purchasing an iPhone to sell later and is hoping to make a "decent profit" off it. Compared to the ginormous Apple store line at 1 pm today, the Cingular line had about fifteen people. Ryvarczyk and Martin said that their secret to keeping fueled and refreshed was beer (for Martin) and cigarettes and coffee (for Ryvarczyk). When I arrived the scene was a drastic change from the Apple store madness - Cingular store employees were giving the people in the line chairs and water bottles to make their street stay more comfortable.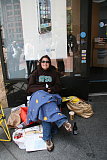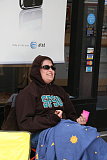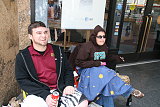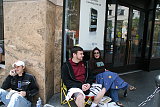 To check out more images of the line-up, read more