iPhone Typing Shortcuts
iPhone Tip: More Keyboard Shortcuts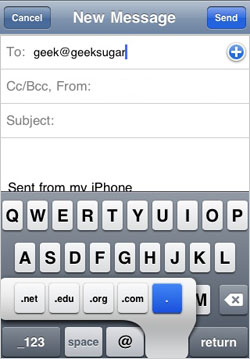 Thanks to reader T S for commenting on my latest iPhone tips post. Turns out, holding your finger down on different keys on the keyboard opens up quite a few options while you're typing. She writes:
You can also type letters with accents by holding your finger on the letter, so if you put your finger on "e" and hold you'll get the option of é, è, ë, etc.
I just spent the last hour holding down various keys to see what would happen, and found more shortcuts! To see my list, read more.


Holding down the period button when entering someone's email address gives an option of adding a ".com," ".net," ".edu," or ".org" suffix (I love this one!)
Holding down the period button gives the option of ellipses.
Holding down the "0" key gives the option for the º symbol. (I've never had to use it, but nice to have the option!)
Holding down the "-" key gives the option of an em dash (—).
I also knew that touching any image in Safari gives you the option to download it to your phone — am I missing anything else?