Fourteen years ago in October, Apple changed how we listen to music with the introduction of the iPod. Then, in 2014, the company discontinued the classic iPod model, though you can still buy the iPod Touch, iPod Nano, and iPod Shuffle. Though Apple hasn't officially revealed anything, an article [1] from 9to5Mac hints at new colors for each of these products, expected to be released around July 14. While the news is exciting, pictures like this one that a Redditor shared [2] to say goodbye to his iPod, still make us miss the olden days.
While the iPhone may have taken over for many Apple users as a music device, it all started with the iPod. We've seen so many iterations of the famous MP3 player hit the shelves that you may have forgotten where it all started: a clunky push-button device. Relive the last 13 years of digital music, when phone and music player were two separate things.
— Additional reporting by Molly McGlynn
Source: Getty / Justin Sullivan [3]
iPod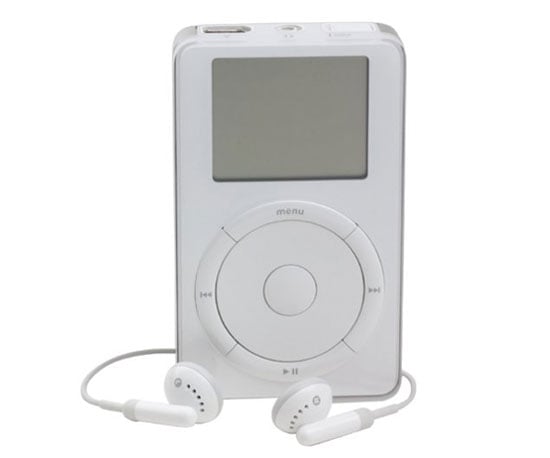 The classic iPod, released in October 2001, gave you the option of 5GB or 10GB capacity and had a 10-hour battery life.
Second Generation iPod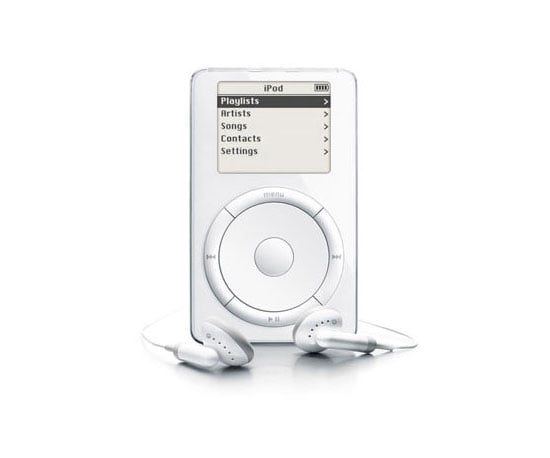 The second generation iPod released eight months later and upped the ante by increasing capacity to 10 or 20GB hard drives, but didn't give any improvements to the life of the battery.
Third Generation iPod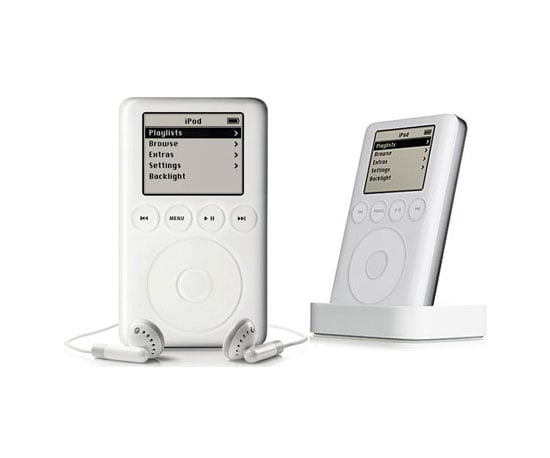 The all-touch interface of the third generation iPod arrived in April 2003 with a number of hard drive sizes (10, 20, 30, and 40GB), but came with a much smaller and lighter body. This was the first iPod to sport a dock connector, but poor battery life of eight hours really cut this model down to size.
iPod Mini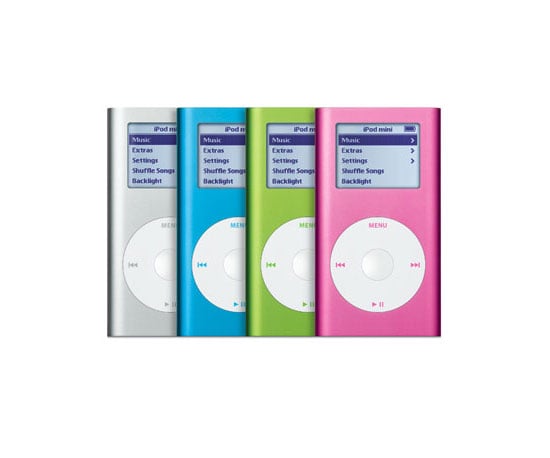 Two versions of the iPod Mini were released in January 2004 and February 2006. Both came in tiny, candy-colored 4 and 6GB storage models.
Fourth Generation iPod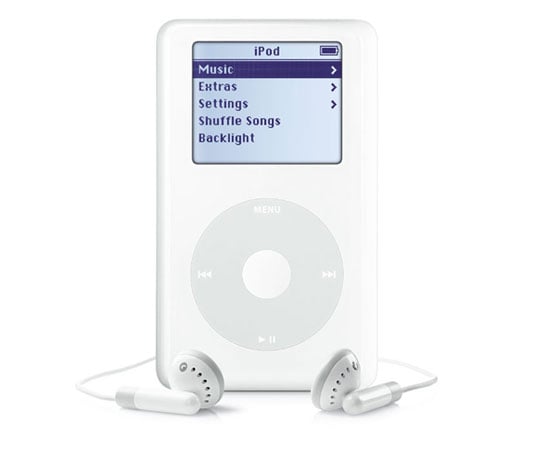 July 2004 brought the fourth iteration of the iPod with a choice of either a 20 or 40GB hard drive, an introduction to USB connectors (verses just Firewire in previous versions), and a 12-hour battery life. In October 2004, this model increased its hard drive space to 60GB and its battery life to 15 hours, and integrated photo viewing and color displays.
iPod Shuffle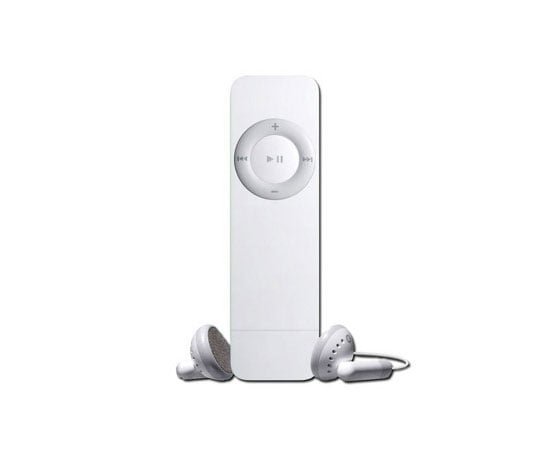 The tiny iPod Shuffle made its debut in January 2005 with a new way to listen to an iPod — totally at random. The shuffle comes without a screen, so you are at the mercy of your library, and can only skip forward and backward with the controls on your headphones or the touch controls on the body. The Shuffle came with 512MB or 1GB flash memory storage.
iPod Nano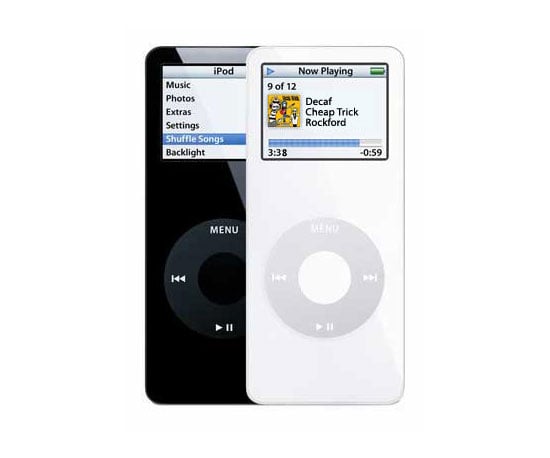 Replacing the Mini in September 2005, the Nano had a small, compact body (in white or black options), and came with a flash memory instead of the previous hard drives, with up to 8GB of storage.
Fifth Generation iPod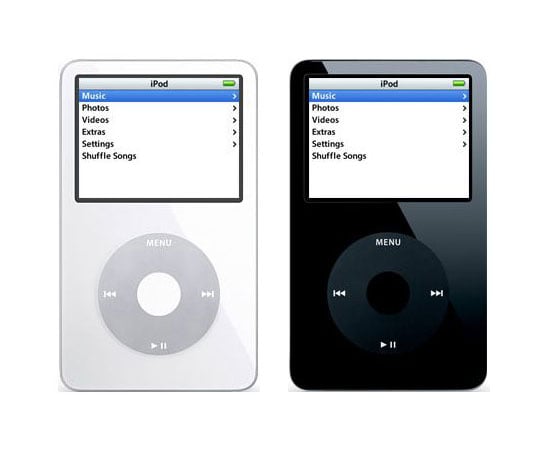 In September 2005, the first release of the fifth generation iPod offered us 30 and 60GB models (coming in white and black). Re-issued a year later, Apple increased its hard drive space to 80GB, allowing you up to six hours of video playback and 20 hours of audio.
Second Generation iPod Nano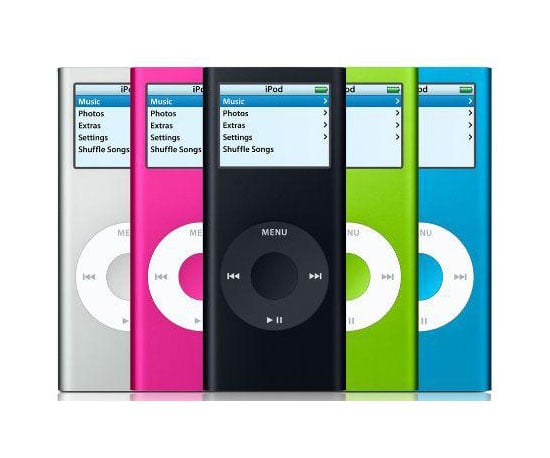 With more color variety, the second gen iPod Nano was released in September 2006 with a boost in storage space (8GB max), an aluminum casing, and 24 hours of audio playback.
Second Generation iPod Shuffle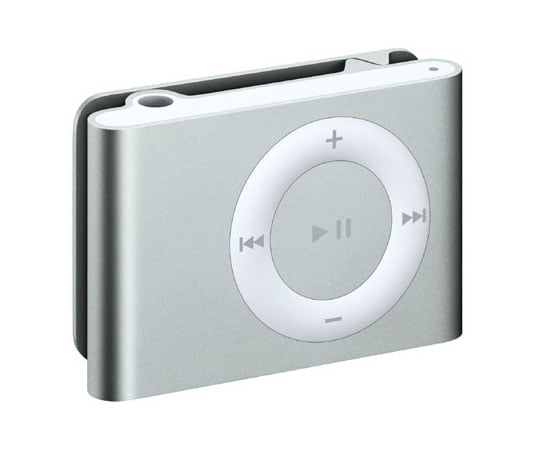 The next release of the Shuffle came with an even smaller body, up to 2GB of storage, and a variety of colors. This Shuffle added a clip to the mix so you can just attach and go — no case required.
Sixth Generation iPod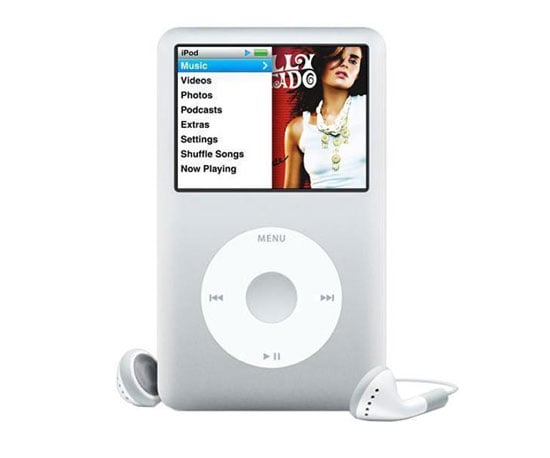 The latest version of the iPod Classic (which was originally released in 2007 and 2008) comes in standard silver or black with video, audio, and a massive 160GB of storage, which can hold up to 40,000 songs.
Third Generation iPod Nano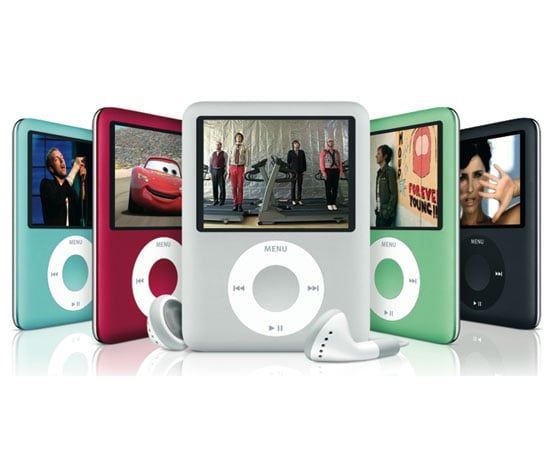 The third generation Nano — released in September 2007 — got a cosmetic reset and is an inch smaller than previous versions. The third in the Nano family is squat, comes in a variety of colors with a two-inch QVA screen, and has 8GB of storage.
iPod Touch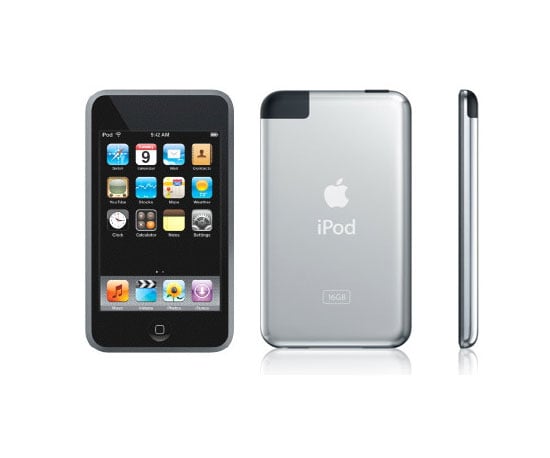 The first iPod with WiFi and a multitouch interface, the iPod Touch was released in September 2007 along with the iPhone. Allowing purchases of apps, photo capabilities, and a 32GB memory make this the best MP3 player to hit the market. Two more re-releases in 2008 and 2009 bring Nike+ integration, a matte black color option, and a boost to 64GB of storage.
Fourth Generation iPod Nano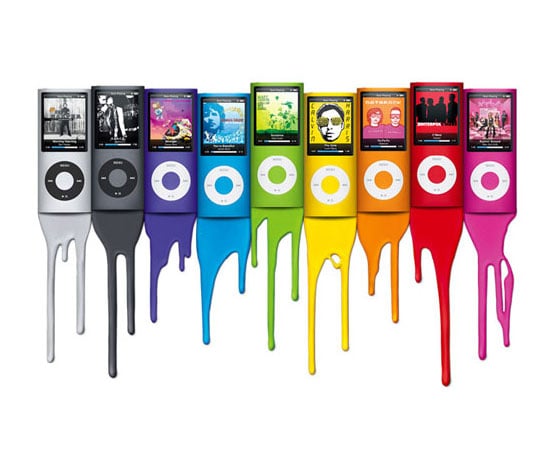 The Nano got another overhaul in September 2008 when loads of new colors were added to its taller, more familiar aluminum casing. An accelerometer was added to view video horizontally, and it got a boost in storage space to 16GB. Additionally, this version no longer uses Firewire cables for charging — it's all USB.
Fifth Generation iPod Nano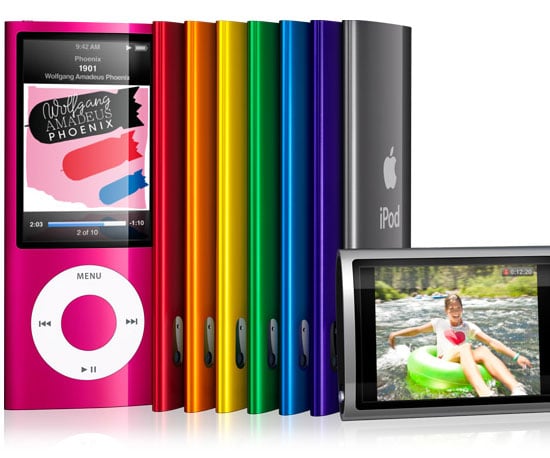 Although the body looks quite similar, the fifth generation Nano (released on Sept. 9, 2009) is different on the inside. Boasting video recording and playback, plus a photo viewer and lots and lots of color options, it's the most versatile Nano yet.
Third Generation iPod Shuffle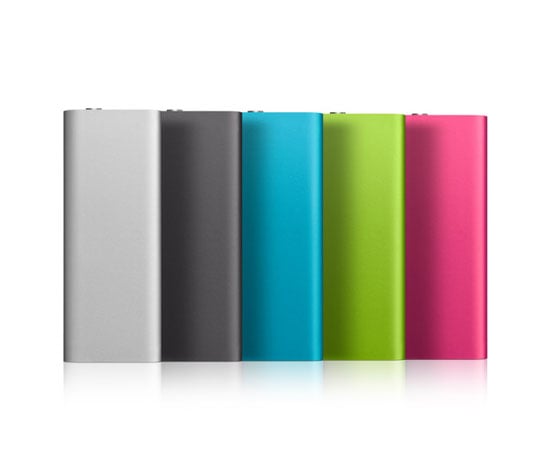 Introduced on Sept. 9, 2009, this Shuffle has a taller body and more storage space at 4GB.
Fourth Generation iPod Touch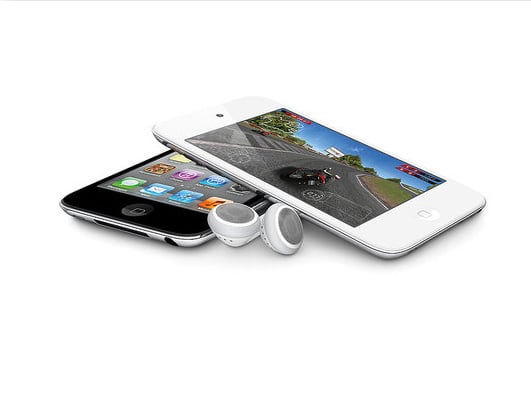 The iPod Touch [4] got another facelift in September of 2010, with a slimmer body, two cameras to support Face Time, a Retina display, iCloud, and iMessage. The trendy white color became available in October of 2011 and was a big hit.
Fourth Generation iPod Shuffle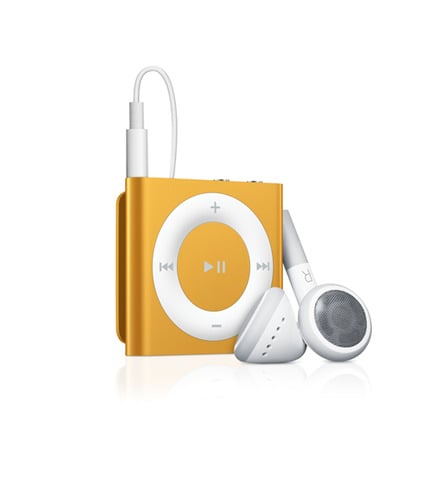 Introduced in five colors, the fourth generation iPod Shuffle brought functionality back to the body with the reemergence of controls.
Sixth Generation iPod Nano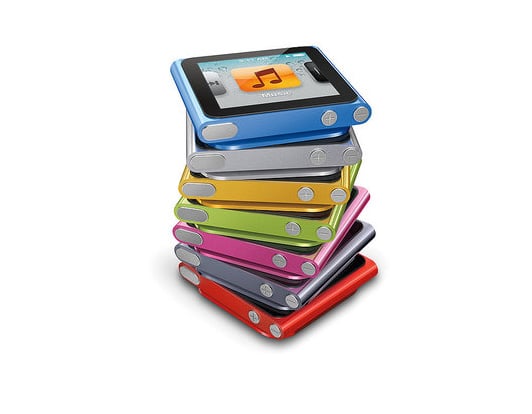 The sixth generation Nano [5] was unveiled Sept. 1, 2010 with a completely new look featuring a smaller, ligher, and more portable frame. Apple also decided to ditch their classic click wheel in favor of a touch screen.
Fifth Generation iPod Touch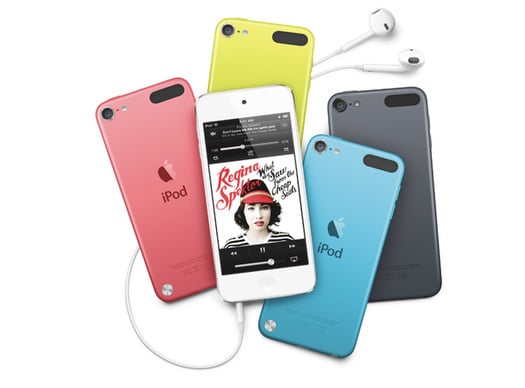 The newest iPod Touch [6] shipped in Oct. 2012, tricked our with iOS 6 and Siri functionality. But even better than the latest and greatest operating system were the four candy-colored hues to can choose from, the larger 4-inch display, and the HD flash camera!
Seventh Generation iPod Nano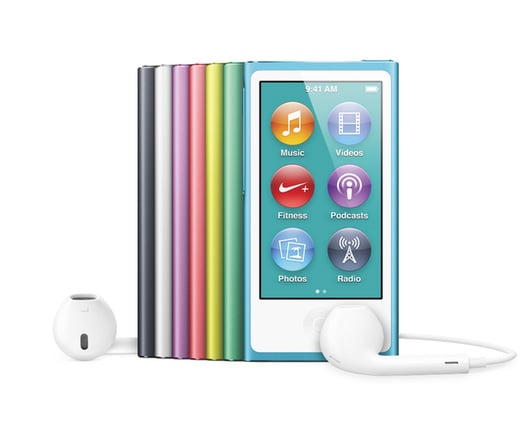 Featuring built-in Bluetooth capabilities, this Nano [7] allows you to play your music with any compatible device — even your car! Announced on Sept. 12, 2012, this little baby became the thinnest model ever, weighing just one ounce even with its 2.5-inch screen display and 16GB storage.