teresa palmer mistaken for kristen stewart all the time. do you think they look alike?
Movieline.com: Those not yet familiar with Teresa Palmer — the up-and-coming Aussie actress who stars in this weekend's I Am Number Four — may have been a bit confused when they first saw the trailer for the DreamWorks sci-fi film, if only because the 24-year-old bears a striking resemblance to Twilight star Kristen Stewart — a theory substantiated by the many Internet message boards devoted to this very subject. In a recent conversation with the actress, Movieline discussed the online comparisons with Palmer, who was relieved to finally address her cinematic doppelgänger head-on. Er, face-on.
"I get mistaken [for Kristen] all the time!," the actress exclaimed when Movieline first broached the subject. "The three [actresses] I usually get are Kristen Stewart, Naomi Watts and Scarlett Johansson, but hands down the number one I get is Kristen Stewart. It's all over the Internet. I can definitely see the resemblance. We have a similar shaped chin and we're both dark under our eyes with similar lips. I've been recognized for her before."
"Fans will come up to me and say, 'Oh, I loved you in Twilight' and ask for an autograph," Palmer explained. "One woman came up to me crying so hard — absolutely sobbing. I was so confused. I thought, 'Did you see [my film with Adam Sandler] Bedtime Stories or something?' [Laughs] Then she was just going nuts about Twilight."
As for whether the comparisons ever get tiresome, Palmer explained that they are quite the contrary.
"I'm not sick of them. It's all flattering. What I love about Kristen Stewart is she is so edgy and so plays it against the norm. It's very refreshing to see an actress like that really get into the fact that she is different from everybody else and that's just the way she is. I've never met her but I love watching her onscreen. I think there is something dark and sexy about her. I think she is fiercely talented as well."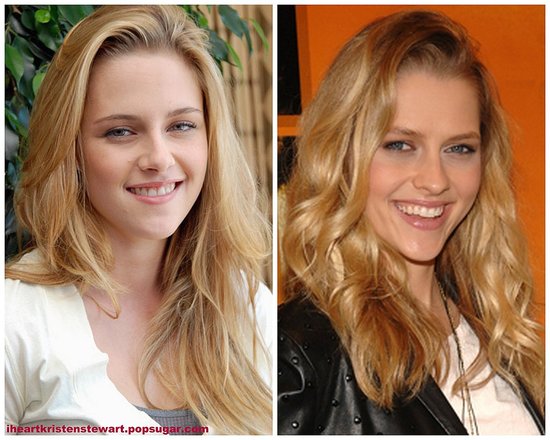 via movieline.com and poll by me, iheartsugar