March was a busy month for celebrities, between tropical beach getaways, family fun, and red carpet duties. Kate Middleton made her way underground to explore the London Tube in honor of its anniversary, and Cameron Diaz [1] frolicked in the water with Reese Witherspoon [2] and Drew Barrymore [3] for a bikini boot camp in Tulum, Mexico. Maxwell Johnson stole the spotlight during a promotional appearance with mom Jessica Simpson [4] and Aunt Ashlee Simpson [5] in Charlotte, NC, and Ben Affleck [6] and Jennifer Garner [7] cuddled up to one another at a charity event in LA.
That's not all the excitement to go down this month — click through to see the best pictures from March!
Source: Getty [8], XposurePhotos.com [9]
Sienna Miller and Tom Sturridge brought their baby daughter, Marlowe Sturridge [10], out for a walk in NYC.
Victoria Beckham celebrated the launch of her new website [11] during a stylish errand run with Harper in London.
Kristen Stewart took a seat on Katy Perry's lap [12] next to Selena Gomez [13] at the 2013 Nickelodeon Kids' Choice Awards in LA.
Jessica Simpson and Ashlee Simpson posed with Maxwell Johnson [14] during a promotional stop in Charlotte, NC.
Jennifer Lawrence sported a crazy hairdo [15] on the Boston set of her David O. Russell movie.
Britney Spears donned a striped bikini [16] to soak in the sun with friends in Malibu, CA.
Ben Affleck and Jennifer Garner spent St. Patrick's Day [17] at an LA park with Samuel.
Kate Middleton went underground [18] to celebrate the 150th anniversary of the London Tube.
Bradley Cooper wore hair curlers [19] and went shirtless [20] under a green jacket on the set of his untitled David O. Russell movie in Boston.
Reese Witherspoon slipped into a swimsuit [21] to celebrate her 37th birthday during a getaway to Mexico with husband Jim Toth.
Kate Moss returned to the runway [22] for Louis Vuitton during Paris Fashion Week.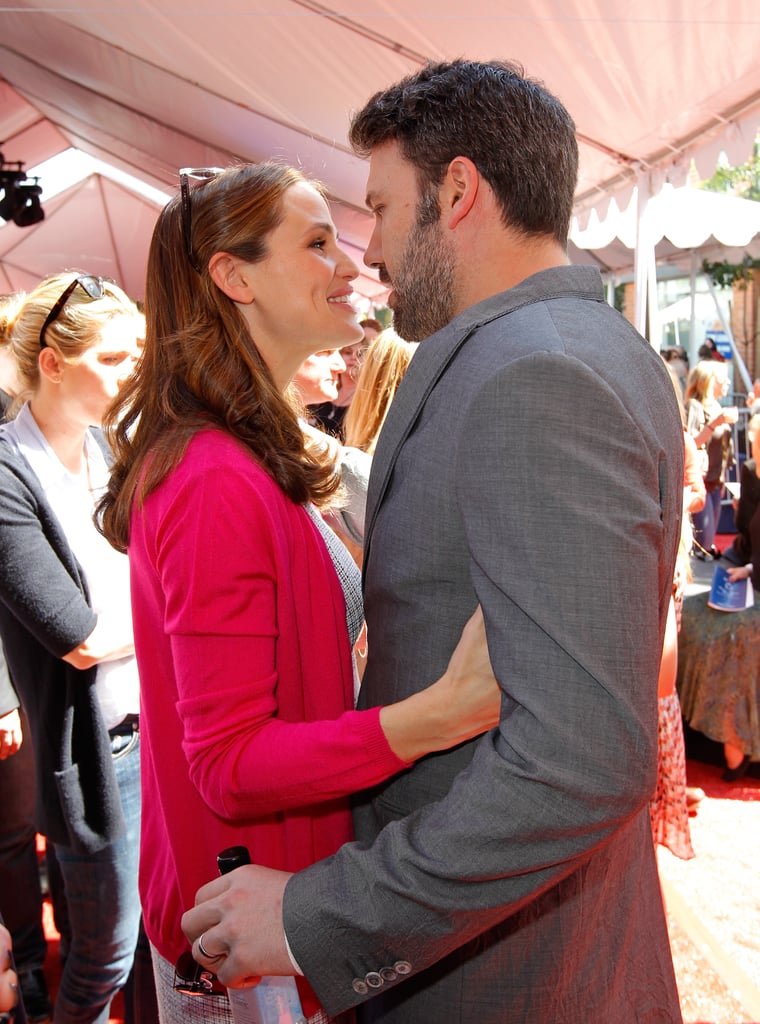 Jennifer Garner and Ben Affleck kissed [23] at the John Varvatos 10th annual Stuart House Benefit in LA.
Gisele Bündchen wore a purple bikini [24] for a beach day with daughter Vivian in Costa Rica.
Mark-Paul Gosselaar and Breckin Meyer were shirtless on the beach [25] in Malibu, CA, to film scenes for their TNT show Franklin & Bash.
Halle Berry wore a black bikini [26] to hit the beach in Hawaii with her daughter, Nahla, and fiancé, Olivier Martinez.
Robert Pattinson showed off a grunge makeover [27] on the set of The Rover in Australia.
Source: MediaMode [28]
Angelina Jolie visited with victims of sexual violence [29] in the Democratic Republic of Congo with Britain's Foreign Secretary William Hague.
Emma Stone and Ryan Reynolds paired up on the red carpet [30] for their NYC premiere of The Croods.
Robert Pattinson and Kristen Stewart reunited [31] for a night out in LA, where a fan snapped a photo.
Source: Instagram user laura_austin [32]
Julianne Hough joined Nina Dobrev courtside [33] at the Lakers game after Julianne's split from Ryan Seacrest [34] was announced.
Penélope Cruz showed off her baby bump in a black bikini [35] while taking a dip in Barbados.
Blake Lively and Sarah Jessica Parker teamed up [36] for the launch of Canada's first Target store in Toronto.
Selena Gomez [37], Harmony Korine, Rachel Korine, Ashley Benson, and James Franco [38] huddled up at the Spring Breakers afterparty at SXSW [39].
Miley Cyrus wore a bikini [40] to relax poolside at the Ace Hotel in Palm Springs, CA.
Brad Pitt went furniture shopping in Paris [41] after news broke that his and Angelina Jolie [42]'s wine, Miraval, sold out of its first batch in just five hours.
Cameron Diaz hit the beach [43] in Mexico with Reese Witherspoon [44] and Drew Barrymore [45].