This week in POPSUGARTV, Fashion tackled the wedge-sneaker phenomenon and found the six best pairs to comfortably update your wardrobe with style. Beauty presented Pantone's new color palette with a trendy emerald hue. Food eased us into Spring with a refreshing gin and jam cocktail, and Fitness showed us five full-body moves with a BOSU that will get us ready for swimsuit season.
Click through for all these videos and visit POPSUGARTV [1] for even more!
Get a Model-Off-Duty Makeup Look Every Day
Even when models aren't walking the runway, they still look glowing and gorgeous. CK One Global makeup artist Jodie Boland explains how to re-create the cool-girl style yourself and reveals the products you should use to get it. You'll look effortlessly gorgeous in no time.
Behind the Scenes at Cara Delevingne's DKNY Photo Shoot in NYC
Cara Delevingne stole our hearts with her playful personality and gorgeous eyebrows, and we're not the only ones who are captivated by this British model. Chanel, Burberry, and DKNY have all selected her to front their big ad campaigns — and we spotted Cara on the streets of NYC shooting another round for DKNY. Watch our Fashion Flash for the scoop! On Allison McNamara: Tucker dress, Low Luv jewelry.
How-To: Stock Your Home Bar
Want to build your home bar, but don't know where to begin? We'll show you how to start from scratch with the cocktail essentials. We tackle the must-have liquors and what to make with them and the mixers that are (and aren't!) staples for tipples both classic and contemporary. Of course, don't forget the garnishes, glassware, and gear — including our go-to cocktail book. Watch our video to become a master behind the bar in no time.
I'm a Huge Fan: Tina Fey — Watch the Big Interview About Women in Improv and More!
It's time for the big moment of I'm a Huge Fan: Tina Fey [2]! Our lucky winner Harmony has picked out the perfect outfit, tried her hand at improv, and checked out some of Tina's favorite New York City food spots, but now it's the big moment — finally meeting Tina. First, Harmony sits down with Paul Weitz, the director of Admission, to get even more insight into working with Tina. Then Harmony finishes her makeover, slips on her perfect Club Monaco [3] outfit, and heads to the Admission red carpet to meet Tina! Watch their sweet interview, hear Tina talk about why every teenager should do improv, and more — enjoy I'm a Huge Fan: Tina Fey [4]! Admission hit theaters on March 22.
Butter London and Goop Give Us Some of the Best Nude Polishes Ever
Nude nails are a classic, but they're also experiencing an on-trend revival this Spring. The latest collaboration from Butter London and Goop allows all skin tones to rock this trend by offering a variety of color options. We're giving you an up-close look at the collaboration's Starker Trio, a nail polish set you're going to want to get your hands on this season.
6 Cool Pairs of Wedge Sneakers to Shop This Spring
The wedge-sneaker phenomenon is clearly making its mark with the fashion set. Celebrities like Diane Kruger [5], Kate Bosworth [6], Miranda Kerr [7], and Jessica Alba [8] have all been spotted sporting these raised kicks around town, and we're sure you can see why. After all, who wouldn't like the comfort of a sneaker with a hidden high heel? We've rounded up six of the best wedge sneakers on the market right now that will please any fashion personality. Watch on to see our picks and make sure to invest in these comfy wedge shoes, stat! On Allison McNamara: Club Monaco top, BCBG Max Azria pants.
Tone Your Back and Chisel Your Waist With Yoga
There's no miracle move to diminish the extra flesh that gathers at the waistline of your jeans — only calorie-burning cardio decreases body fat. But it's still important to strengthen and tone your back muscles, so as you begin to lose weight, chiseled lean muscles will be revealed. Here are five yoga poses recommended by Core Fusion [9] to tone the back and sides of the body. This is a truly great core-strengthening workout. Press play to learn how to maximize the toning elements of these yoga poses.
See the Emerald Collection From Sephora and Pantone
Looking for a new neutral to add to your makeup rotation? Pantone's color of the year is emerald, and the brand has teamed up with Sephora for their annual makeup collection. We're showing you a closer look at the pretty palettes, mascaras, and eyeliners in the trendy hue, as well as offering up tips so you can rock this color with style.
Our Tips and Tricks For Always Being Camera-Ready — Revealed!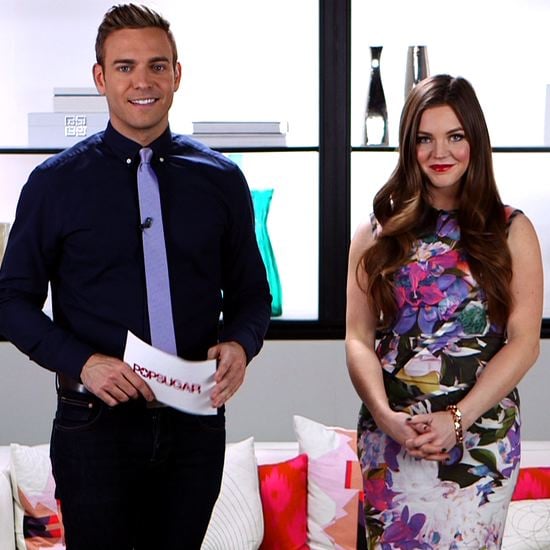 Not all of us are genetically blessed with supermodel bone structure like Kate Moss [10] or Gisele Bündchen [11], but listen, there are ways to master the art of a (really) good photo. One quick way? Posture! Today, our reporters Matthew Rodrigues and Allison McNamara are relaying the best tips and tricks so you won't ever have to hit "delete" or ask for a redo shot. Watch on to hear how to strike the perfect pose! On Allison McNamara: Nicole Miller dress, Luv Aj jewelry, Rag & Bone shoes.
Make This Easy Gin and Jam Cocktail
Spring may have sprung, but if you're not seeing ripe stone fruits and berries just yet, then fret not: you can still get your fruit fix with this easy jam cocktail idea, which comes courtesy of Madam Geneva [12] in New York City. Grab a bottle of your favorite gin and a jar of jam from your fridge, watch the video, and print out the recipe [13].
5 Full-Body Moves With the BOSU
We love the versatility of the BOSU, which stands for "both sides up." Whether you work with the unstable ball side facing down or up, you can use this fitness tool to work every part of your body. Plus, the BOSU makes almost every exercise more challenging. Watch this video to learn five BOSU exercises that make up a full-body workout.
The Sapphires' Jessica Mauboy Talks the Movie's "Extraordinary" Real-Life Story — and Sings For Us!
Jessica Mauboy was launched to fame by Australian Idol, but this weekend, she'll make a splash on the big screen in The Sapphires. The movie, which she costars in alongside Bridesmaids and Girls alum Chris O'Dowd, tells the inspiring and harrowing true tale of an Aboriginal girl group in the 1960s who headed overseas to entertain the troops in Vietnam. The movie follows the civil rights movements in both America and Australia with a soundtrack of soul music, and it received a standing ovation at the Cannes Film Festival last Summer. Check out our interview and catch The Sapphires, which hit theaters on March 22.