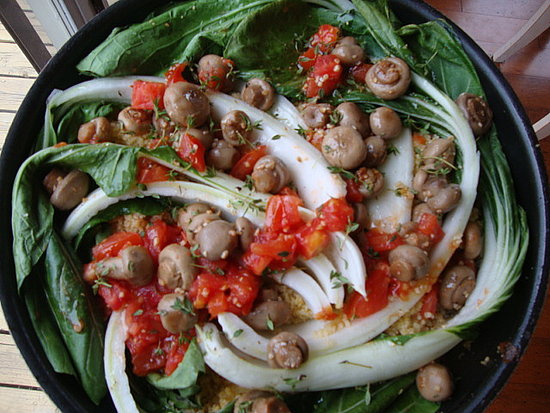 Ok . . . way better than last night's catastrophe. This recipe is in the latest issue of Vegetarian Times but I made just a couple of changes based on what I had at home. My only suggestion would be to steam the bok choy separately (defeating the purpose of a 0ne-pan meal) but I found that when I steamed them much longer than the recipe says and they still were crunchy, it's worth using another pan. I love bok choy and I don't cook with it nearly as much as I ought to. VT also informed that it is packed full of vitamin C, carotenoids, and phytonutrients that strengthen the immune system and may help reduce the risks of some cancers. What a bonus!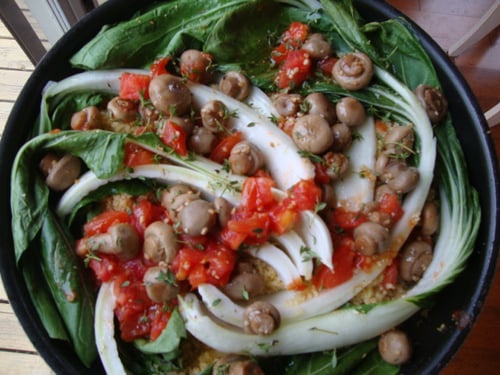 Bok Choy Skillet Supper
Adapted from Vegetarian Times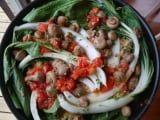 Ingredients
2 tsp garlic-flavored olive oil, divided, plus more for drizzling
8-oz button mushrooms, sliced (I left them whole and used jarred)
8 cherry or grape tomatoes, halved (I chopped one tomato as I somehow ended up with a ton)
2 shallots, finely chopped (1/4 C)
1 C bulgur (I used couscous)
1 C mushroom broth (I used vegetable broth)
1 sprig fresh thyme, plus 1 tsp thyme leaves
4 small bok choy, halved
Directions
Heat 1 tsp  garlic oil in a skillet over med-high heat. Add the mushroom and saute 5 minutes, or until browned.I added about 1/2 tsp of minced garlic as well.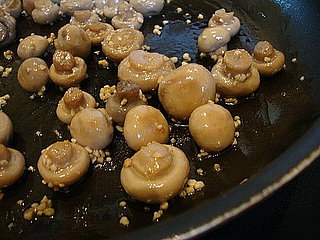 Transfer to a bowl or plate. Add the tomatoes and cook for a couple of minutes; add to the mushrooms. In the skillet, add the remaining 1 tsp of oil and stir in the shallots; saute 2-3 minutes. Stir in the couscous and thoroughly coat with oil. Add the broth, thyme sprig, and 1-1/2 cups of water. Season with salt and pepper, if desired, stir, reduce heat to med-low, and cover for 5 minutes.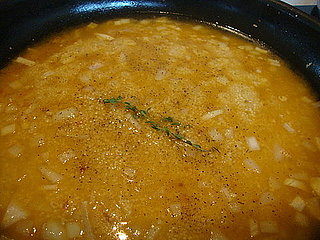 (If not steaming the bok choy separately) arrange the stalks on top of the couscous in a pinwheel fashion. (Gotta make it look pretty). Cover and simmer 5 minutes. Remove from heat and let sit for 10 minutes. Sprinkle with the thyme leaves, mushrooms, and tomatoes. Drizzle with the garlic oil. This dish is full of flavor and taste—not to mention vital nutrients. Enjoy!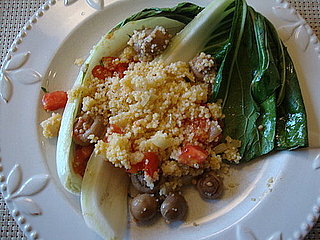 Information
Category

Other, Main Dishes